5 Top Toys For Kids Especially during the Pandemic
2020 has been such a rough year for many, especially for kids. Most kids have been stuck in the house, not even able to go to school and be with their friends. Parents everywhere are having to come up with ways to keep their children busy while keeping them safe. That means finding toys, games, or whatever else they can find to keep not only the kids entertained but also keep their sanity.
I've compiled a list of 5 toys that I think will keep the kiddo's entertained and help end the infamous "I'm bored".
The SGILE RC stunt car
FEATURES:
 The car can move in all directions, can do extreme 360-degree tumbling spins, and can also flip on both sides using its controller. The racing car body is built with soft but strong plastic allowing it to handle all kinds of collisions. Premium rubber tires allow the car to be controlled easily while its internal coil springs are elastic, giving the car a smooth run.

This SGILE Racing Car is powered by a powerful motor system that can push the car to a maximum speed of 15 km/hr. 

 Made out of premium ABS plastic, and non-toxic explosion-proof PVC materials, this racing car is safe to play with for children. The SGILE Racing Car boasts an impressive body design with shiny green and cool surface finishing, making it look like a real racing car.

Easy Controls, Multiple Players – An easy to control remote controller with 2.4ghz transmitter strength, it can be maneuvered even from a far distance. Also, its strong transmitter power means no signal interference if multiple players race with you at the same time. 

 The SGILE Racing Car toy is equipped with a 4.8V 700 mAh NI-MH battery that lasts longer than other standard batteries. This means you can have double the fun every time you play with the SGILE Racing Car.
Speedy Drift Car: Powered by a strong motor, the race car can drift and reach up to a speed of 18km/h, giving you a thrilling drift experience.

Team Play: Get your friends together and play with multiple race cars with no signal interference. Help your kids develop their social and teamwork skills.

50 Mins. Playtime: Equipped with two 6V 600mAh rechargeable batteries that provide a total power play of 50 mins.

100% Tested Toy: Built out of high-quality ABS and PA material, the car has undergone impact and drop tests, ensuring toughness and maximum durability.

Beginner's Race Car: Designed with an easy-to-learn remote controller with a quick and precise response, this race car is the best gift choice for beginners.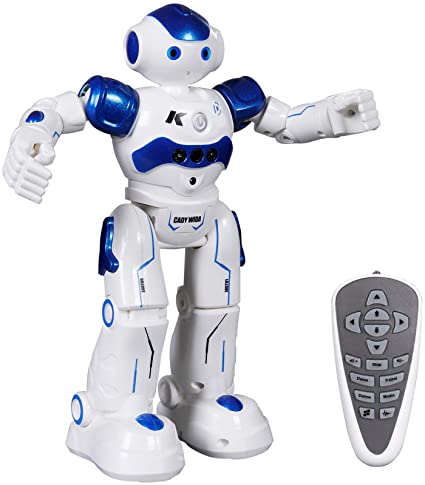 Gesture sensing:The SGILE remote control robot has a gesture sensing function, the sensor receiver zone on the chest can respond quickly after receiving various gesture commands and move forward, backward, left, and right accordingly.

Programming:The programmable kids robot toy has a One-button Programming function that can demonstrate a set of actions that the child enters through the remote control, and can input up to 50 motion commands so that kids can play their own imagination in play.

Patrol:After the patrol function is activated, the fun robot toy will move freely to observe. With its built-in sensor, the intelligent robot can detect and avoid obstacles encountered to avoid potential collisions.

Sing & Dance:The SGILE Robot has a pair of bright LED eyes, which can not only walk, slide but also have the function of singing and dancing. Dynamic music and dance will bring more fun to children.

Battery & Warranty:The robot can play for 60 minutes after charging for about 120 minutes! And you can easily charge it using the USB cable that comes with the robot. At the same time, SGILE provide 7*24 100% satisfaction service if the toy robot got damaged.
BATTLE MODE: The RC dinosaur's back is equipped with combat rigs – sucker bullets. After receiving the battle signal, the RC dinosaur will roar and enter battle mode. He looks around and eliminates sucker bullets to the target.

BIONICS DESIGN: The robot dinosaur is designed based on a bionic prototype of a tyrannosaurus. His head and tail can swing flexibly and perkily when moving on. With LED light in the eyes and vivid sound effects, the toy dinosaur shows the power and prestige of ancient overlords.

INTELLIGENT TOUCH SENSING: touch inductive area on dinosaur's head, he will swing his head and tail in response. Multiple response ways add more fun to playing.

ACTION PROGRAMMING: You can conduct programming on multiple actions by its function button. Then start to play, he will show a series of actions. It helps improve kids' creativity and imagination.

LOTS OF FUN: Not only can the robot dinosaur fight, but he is also a talented performer. He can dance to different prerecorded music. And you can use the remote control to switch two modes: slide & walk. Multiple functions bring more fun to your kids.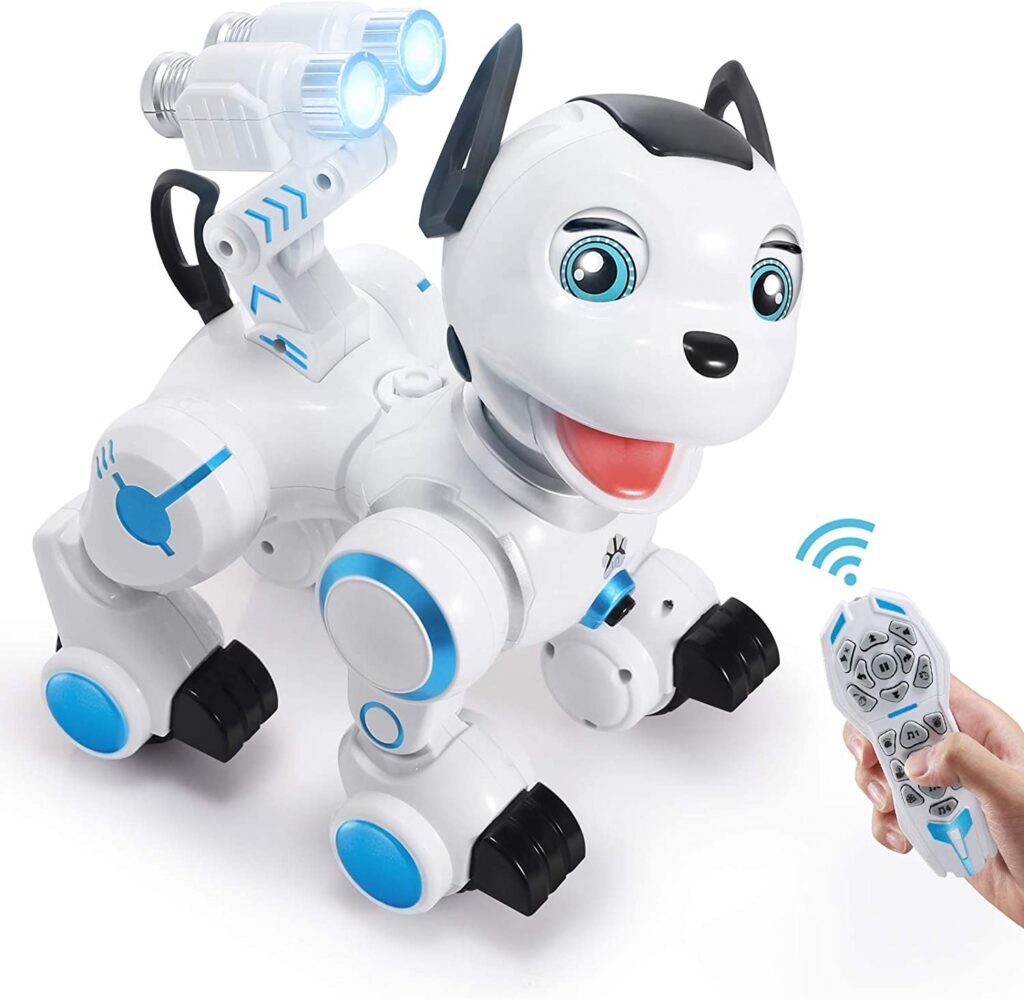 The robot dog is a very adorable smart robot dog that looks like a real dog. It can walk everywhere, bark and wink.

 With versatility, the robot dog can speak and walk, sing, and dance. 

The robot dog has fully programmable functions. 

The robot dog is charged and full of energy by using a USB charger. 
These are my 5 Top Toys For Kids Especially during the Pandemic.