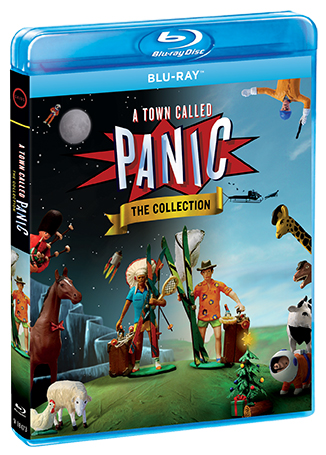 A Town Called Panic and the co-directors of the Academy Award®-nominated Ernest & Celestine, is receiving a Blu-ray™ and EST/VOD release from GKIDS in collaboration with Shout! Factory, on December 19, 2017.This hilarious show is recommended for kids 9 and older by Common Sense, who gave it a 4 Star review. Bonus features include all 2 hours of the A Town Called Panic shorts that aired as a series on Nicktoons, and The Grey Room, a new short film by same directors. In case you are not familiar with A Town Called Panic. Check out this video:
Take a trip to A Town Called Panic, the acclaimed cult comedy phenomenon featuring Cowboy, Indian and Horse, three plastic toys sent on strange and hilarious adventures in two award-winning new specials. Cowboy and Indian are always up to some harebrained scheme, with Horse left to clean up the mess. In Christmas Panic, their out-of-control antics lead Horse to call Santa and cancel the presents. But the boys figure they can still save Christmas… if they break into their neighbor's house to steal his yule log! In Back to School Panic, a class quiz promises a fantastic prize, but only Pig knows the answer. Cowboy and Indian use a special shrinking potion to sneak into Pig's brain, where they discover a bacon-packed world that is more than they bargained for.
A Town Called Panic: The Collection received a 50+ theater theatrical release in fall 2016 as part of Arthouse Theater Day, a day of unique programming at independent cinemas nationwide. Christmas Panic! and Back to School Panic! won audience awards at the New York Int'l Children's Film Festival, the largest festival for kids and teens in North America, the Jury Award at Annecy Film Festival, as well as additional prizes at numerous festivals around the globe.
Three lucky CouponWAHM readers will receive a chance to win a copy of this movie in an upcoming giveaway.