Reveal Softer, Glowing Skin With The Brown Sugar Sea Salt Scrub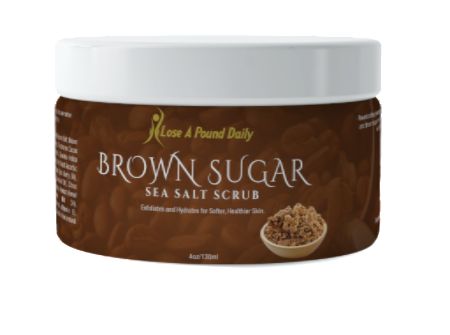 If you are a mom like me, you can probably agree with me when I say. It's not easy to take time out for ourselves. With after-school activities, errands, dinner preparation and more. Moms are constantly making lists of things to do, places to go and people to see without ever putting themselves on the list. We usually put ourselves last, especially when it comes to taking ME time. Many times we don't put ourselves on the list due to financial reasons, in crunching numbers and managing the monthly budget there is usually not much money left in the budget for pampering time and luxury. A few years ago, I made a conscious decision to put myself on the list. Each week, I take time out just for me, sometimes it's going to the nail salon or going to the beauty salon, sometimes just going to walk around the mall without my husband or the children. There are times that I just take extra time in the bathroom and incorporate at home spa treatments into my weekly calendar. At home spa treatments can include for are not limited to the following: do it yourself manicures, pedicures and body exfoliating.
I recently received for the purpose of review, the Brown Sugar Sea Salt Scrub from Lose A Pound Daily and I love it. If you are not familiar or have not used body scrubs in the past. A body scrub is a popular body treatment that is basically a facial for the body: it exfoliates and hydrates your skin, leaving it smooth and soft. A body scrub is done with an abrasive material — usually sea salt or sugar — mixed with some kind of massage oil and an aromatic like essential oils. Just like the face, the body needs exfoliation, too. Scrubs should only be used two to three times a week, and rubbing in a circular motion is most effective as it helps to free ingrown hairs and is less abrasive than a back and forth movement.
What I love most about the Lose A Pound Daily Brown Sugar Sea Salt Scrub is that the ingredients are natural and you can actually pronounce them. Here are the ingredients:
 Dead Sea Salt, Fine Grain Sea Salt, Epsom Salt, Brown Sugar, Butyrospermum Parkii (Shea Butter), Neem, Theobroma Cacao (Cocoa Butter),Orbignya Oleifera (Babbasu Butter), Garcinia Indica (Kokum Butter),Sodium Bicarbonate (Baking Soda), Citric Acid, Ascorbic Acid (Vitamin C),  Neem Powder, Euterpe Oleracea (Acai Berry Oil), Argania Spinosa (Argan Oil),  Prunus Dulcis (Sweet Almond Oil), Citrus Reticulata (Mandarin Essential Oil),Prunus Armeniaca (Apricot Kernel Oil), Macadamia Integrifolia (Macadamia Nut Oil), Ricinodendron Rautanenii (Manketti Oil), Tocopherol (Vitamin E).
The Loose A Pound Daily Brown Sugar Sea Salt Scrub reveals softer, glowing skin with gently-exfoliating dead sea salt and brown sugar in a creamy, moisturizing scrub made a variety of pure, authentic oils. It's easy to use. First, wash your skin with soap or body wash and rinse it well. Afterward, apply a sufficient amount of sugar scrub to wet skin over your entire body, massaging in a circular motion (away from water stream) to allow the granules to remove dead skin cells. Finally, rinse off well, then rinse body and pat dry. This makes your skin look and feels refreshed and healthy.
Stay connected as Lose A Pound Daily introduces new products: