My family has been on the journey to a healthier lifestyle. I must admit, it has not been easy. It's sad to say that eating fast food as well as junk food had become the norm. With basketball, dance and piano lessons, life can get so busy that there is not a whole lot of time to eat health (at least that's what I use to think). It's not always easy however, we are committed. It's difficult to find healthy snacks that actually taste good, at least until now. I recently had the opportunity to try some really good snacks from SunRype and all I can say is Yummy. In case you aren't familiar with the product line. SunRype has been around since 1946, they specialize in high quality natural products. I recently had the opportunity of trying the Fruit & Chia and the Strawberry & Watermelon fruit bars. I have to say that they are so good.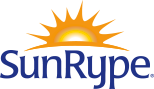 I have personally always stayed clear of protein bars and healthy snacks as they usually have an unpleasant taste to them. I am so happy that we have finally found  snacks that we love. SunRype products are quick and convenient snacks that can easily be stuffed in your bag or in the kids' lunch box.
The Fruit & Chia bars are one of the newest additions to the SunRype family. The Fruit & Chia bars are fruit & whole grain bars with gluten free oats, flax & seeds and are available in two delicious flavor combinations – Apple Cinnamon and Mango Twist.  Not only are these bars delicious, they are a good source of vital nutrients like phosphorus, magnesium, fiber and omega-3 fatty acids to help you feel your best every day.

Ingredients:
SunRype 100% fruit pieces (apple & mango & mangosteen puree concentrates, apple & pear & lemon juice concentrates, natural flavor, citrus pectin, apple fiber), brown rice syrup, gluten-free rolled oats, gluten-free oat flour, sunflower seeds, chia seeds, flax seeds, brown rice flour, unsweetened dried coconut (unsulfited), molasses, sunflower oil, sea salt. Does not contain peanut or gluten ingredients. Vegan.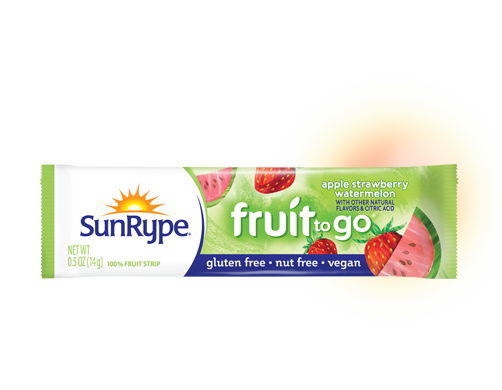 Ingredients:
Apple puree concentrate, apple and pear and elderberry and strawberry and watermelon and lemon juice concentrates, citrus pectin, citric acid (for tartness), natural flavor.
Does not contain peanut, tree nut or gluten ingredients. Vegan.
What I love most is the fact that all sugars come naturally from fruit and fruit juices.

With these healthy snacks you're good to go when you are out and about. If you are looking for a healthy alternative. I highly recommend SunRype. Find SunRype products at select grocery stores in the produce department. Use the locator here: http://www.sunrypeusa.com/where-to-buy You can even order by the case online at: amazon.com/shops/SunRypeProductsLtd
SunRype has re-launched their entire snack bar portfolio to be gluten-free, peanut-free, kosher and vegan within the past year, and we are so excited to collaborate with Disney who shares our passion for health and wellness. Together, we can help deliver fun, educational and nutritional information around the power of healthy eating to individuals and families across North America.

At http://nature.disney.com/born-in-china you will find an Educator's Guide and an Activity Packet that you can download and share with your kids.

Disney's commitment to health and wellness dates back to 2006, when the company became the first major media company to establish a Nutrition Guideline Policy to associate its brands with a more nutritious portfolio of foods and beverages. The company has since marked every year of its Healthy Living Commitment with significant milestones, such as becoming the first major media company to launch food advertising standards for children, launching new content and experiences that inspire healthier lifestyles.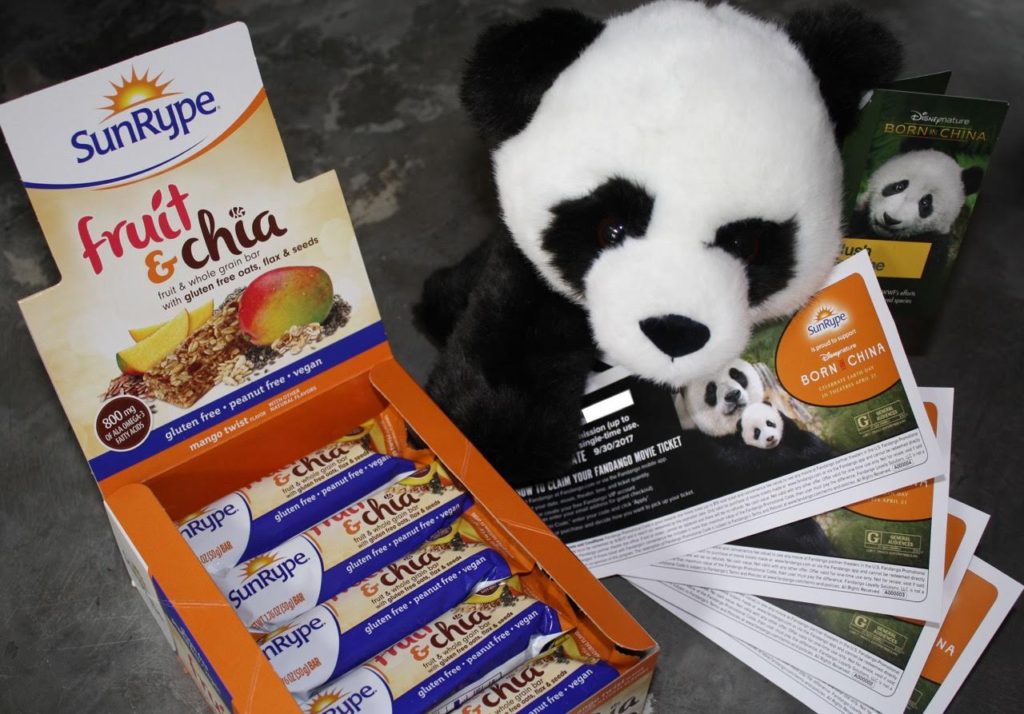 SunRype has collaborated with the upcoming Disney Nature film Born In China which opens in Theaters April 21, 2017. Vote for you favorite Born in China animal for a chance to win a private screening, movie tickets, SunRype snacks and more. Enter here: https://sunrypedisneynaturegiveaway.pgtb.me/s555qv
Good Luck!!