Get Cash Back Using the Ibotta App + $5 Rebate On Luvs #SharetheLuv #ad
This review was made possible by iConnect and Luvs.  I was provided compensation to facilitate this post, but all opinions stated are 100% mine."
Wooo Hooo!! I have a really simple way for you to save some money and it's better than coupons..It's Ibotta. I'm sure by now you have heard of this fun app that is an exciting and fun way to earn cash when you shop at your favorite stores.
I have been personally using the app for a few years now and I'm really pleased with the ease and functionality. It's amazing how the savings and rebates really add up. What I really love is that you can get rebates on products that are already on your shopping list.
Ibotta not only allows you to scan your receipts, you can also link your favorite loyalty cards for cash. It's super easy.
This is how you get started with the program.Download the FREE Ibotta App to your Android or iPhone. Look for your favorite stores and products and complete offers.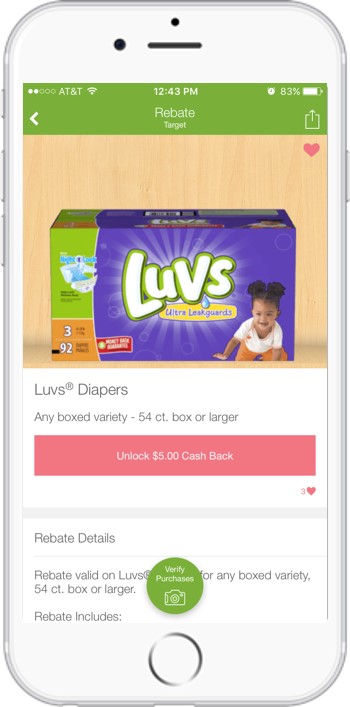 Additionally, in partnership with Ibotta, Luvs is also offering a limited-time $5 rebate on any boxed variety of Luvs Diapers, 54ct. box or larger.
There's no way around it, parenting is expensive! But Luvs is offering great money-saving opportunities for parents with little ones. Here's how to save:
1. Visit http://www.coupons.com/brands/luvs-coupons/ to access a Luvs coupon of $2 off any one diaper
2. Download the free Ibotta app, available on iOS and Android, and search "Luvs" to unlock an exclusive pack. Print the coupon at home and use it at any mass, discount or grocery stores where Luvs Diapers are sold.
Here's how to get the $5 rebate:
 Go shopping for your Luvs Diapers at any participating store.
 Verify your purchases by scanning product barcodes and submitting a photo of your receipt.
 Save money and earn cash back! Your $5 cash back rebate will be deposited into your Ibotta account within 48 hours.
If you have a little one in diapers,  The official diaper of experienced moms, Luvs is offering opportunities to save on diapers this month with a $2 print-at- home coupon offer.http://bit.ly/1SwtFsL
For more information on Luvs Diapers, visit www.luvsdiapers.com or the brand social media channels on
Facebook (https://www.facebook.com/luvsdiapers), Twitter (https://www.twitter.com/luvs) and YouTube (https://www.youtube.com/luvsdiapers).
Head over and check out the
 Ibotta 
app for Product Offers, Bonuses, new Store Extras and more.  Start getting  Cash Back Using the 
Ibotta
app.