#GetSafeHands Helping Families Fight Germs #reviews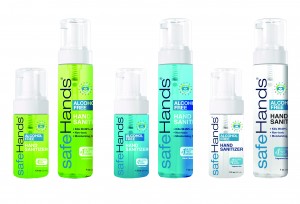 If you are like me. I'm sure you are always very careful when it comes to keeping your family safe from germs. My husband and I both keep hand sanitizer in our cars and even take it with us into any restaurant that we eat dinner in. We have also taught our children the importance of keeping their hands as germ free as possible and they too carry hand sanitizer in their book bags. What many people don't realize is that germs can enter into your body very easily by putting your hand into your mouth even if you have washed your hand.
I recently found out about a great product that is helping families fight germs, it's called Safe Hands. If you are not familiar with Safe Hands. After years of in-depth scientific research and clinical testing, Dr. Jay Reubens, the inventor of the first touch-free dispenser, created safeHands—the world's first doctor-invented alcohol-free line of hand sanitizers. Both the safeHands Squirts and safeHands Classic Line, their respective adult and children line, were created in an effort to create a hand sanitizer that is non-toxic, soothing and works with the skin's natural oils to increase in germ killing with each consecutive use.Safe Hands ditched the culprit behind traditional hand sanitizer's undesirable side effects – alcohol – and replaced it entirely with Benzalkonium Chloride (BAC), the same ingredient in mouthwash and eye drops, to create a hand sanitizer that is tough on germs and safe for skin.
What I really love about Safe Hands is that it kills 99.9% of germs, it's soothing and hydrating and comes in fun scents that kids love.
This product is the perfect travel accessory, a safe backpack companion for kids and a great way to remain preventative of the cold & flu during the summer and back-to-school.months.
Aside from their website, safeHands recently debuted on Walgreens and Safeway shelves nationwide this year and can also be found at Navarro Pharmacies in Miami,FL.
Please follow and like safeHands on:
Facebook: https://www.facebook.com/getsafehands 
Twitter: https://twitter.com/getsafeHands
Instagram: http://instagram.com/safehandsgram#
I received one or more of the products mentioned above for free using Tomoson.com. Regardless, I only recommend products or services I use personally and believe will be good for my readers.