Healthy Cooking Will Never Be The Same With The Aroma 12-Cup Rice Cooker #reviews
Disclosure: I received this product as an advertorial.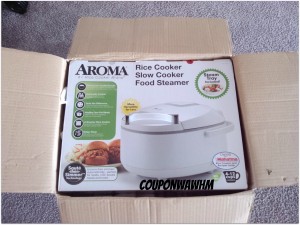 I received the  Aroma 12-Cup Rice Cooker, Food Steamer & Slow Cooker for review. I am absolutely in love with this product because it will perfectly fix 4 to 12 cups of any type of rice that I may want. It also steams meat and vegetables while the rice steams below it. That's pretty awesome to have a machine that will do both things at once and leave me with less hassle. The cooker is easy to use and has digital controls. Other functions that are neat on it is that it has a Keep-Warm feature. It has settings for white rice, brown rice, sushi rice, quick rice, steam, slow cook, saute-then-simmer and also a cake function.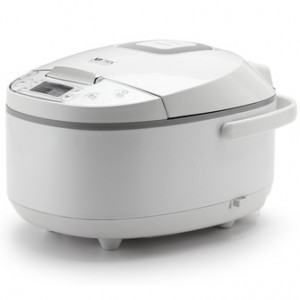 I have never seen another cooker that does quite what this one does with so much versatility. The slow cook function is perfect for those home cooked meals that you just can't live without. The saute-then-simmer function allows for high heat that you need for sauteing to automatically switch to start to simmer once liquid is added to it. One more reason why this cooker is no hassle. A steam tray, rice measuring cup and serving spatula are all included so you don't have to worry about needing to find these other accessories that make the Aroma cooker that much easier to use to prepare your favorite meals.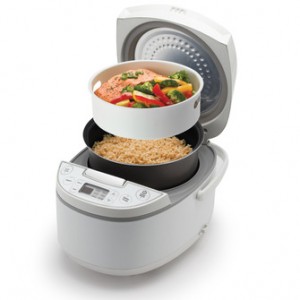 You will be sure to enjoy home cooking and restaurant quality rice every time with the Aroma 12-Cup Rice Cooker & Food Steamer. Steamed meals are healthier meals. If you had a resolution to eat healthier this year, let this cooker help you towards that goal. Cooking will never be the same again. You will have time to help your children with their homework or have time to be involved in other activities such as playtime or maybe even read that book that you never thought you had time for before. Your family will think that these meals took a lot of effort and time on your part, but really your cooker did all the hard work for you.
I loved that once the rice was cooked it would automatically switch to the keep warm function. I did not have to worry about stirring the rice or keeping up with it. The quick rice function if you need rice in a hurry will cook the rice in half the time. Isn't that just super convenient? The Programmable Slow Cook and Cake functions mean this cooker has everything covered from breakfast to dessert covered. I had never heard of a 15-hour delay timer before but this cooker has it. This is perfect for families that are busy and always on the go. The cooking pot and accessories are super easy to clean too. They can all be removed and be washed by hand or even put in the dishwasher. Cooking healthy will never be the same again.
To find out more about the Slow Cooker and to see their entire product line. Head over to their social media channels.
Facebook: https://www.facebook.com/AromaHousewares
Twitter: https://twitter.com/aromahousewares
Pinterest: http://www.pinterest.com/aromahousewares/
YouTube: https://www.youtube.com/user/AromaHousewares