Disclosure: This post contains a referral link.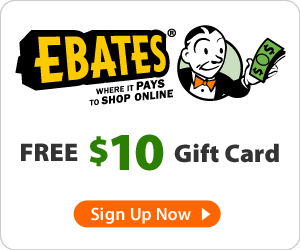 There are a TON of stores that you can shop through to get cash back including eBay, Victoria's Secret, Target, Gap and MANY more! These are just some of the MANY stores that offer cash back
Ulta, Sephora, Groupon, eBay, Amazon, Nordstrom, e.l.f., Macy's, Bed Bath & Beyond, Bobbi Brown, Bauble Bar, Nike, Expedia, iTunes, La Mar, Rebecca Minkoff, Rosetta Stone, Saks 5th Avenue, Sunglass Hut, Teavana, Toys R Us, Walmart, Neiman Marcus, Vera Bradley, COACH How cool is that? You can earn cash back at the stores that you already shop. Get your free $10 gift card from Ebates here: http://bit.ly/2bzGG7l
Check out my video as I walk you through Ebates:
You can sign up for an Ebates account to start earning cash back easily and get your FREE gift card. 

Get your free $10 gift card from Ebates here: http://bit.ly/2bzGG7l