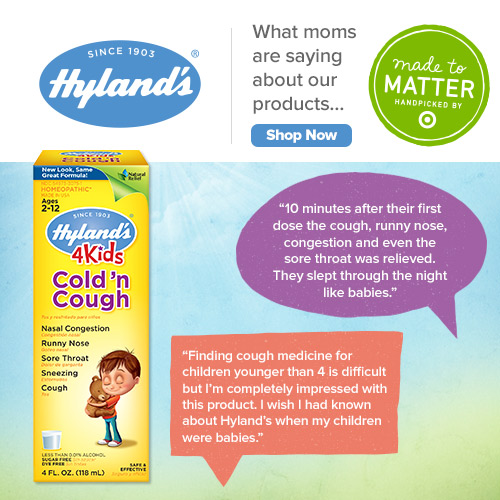 What do you get when a company committed to the betterment of the community and a company that is all about making families healthy naturally? You have a wining combination. Two of my favorite companies have joined forces. Target which we all have come to love for their consistent price cuts,improvement's in customer service and community initiatives and Hyland's. Target is proud to add Hyland's natural products to their already long list of brands that are making things better for our families.
Over the past several years. I made a conscious decision to give my family natural healthy products and I am proud to say that Hyland's has been my go to since the very beginning. Not only are they paving the way when it comes to natural homeopathic products the entire family can benefit from. They are also very cost efficient. Many are hesitant to use natural products because they feel they will cost more money. That is not the case with Hyland's
If you are not familiar with the Hyland's brand. Hyland has been providing effective natural homepathic medicine for the entire family since 1903.  I have been a long time fan of Hyland's product and I'm super excited that Target has added their product line.
I have several favorites from their line, here are just a few of them:
1.  My all time favorite is the Hyland's Calms Forte tablets. Being a mom of 5 children, I am often burning the candle at both end's which causes me to have difficulty winding down sometimes and falling off to sleep at night. The Calm's Forte Tablets are non habit forming and help you fall asleep fast, often within 1 1/2 -2 hours. What I especially love about this product is that I don't wake up with that hung over feeling. I feel very well rested and ready to begin my day. I you experience minor insomnia, this is a winner!
2. When it comes to my children, I am just like any other mom, I am so afraid of all of the chemicals that are being placed in alot of the medicine now a days along with the long term side effects such as liver and kidney damage.  My go to when my little one's get a cold is the Hyland's Cold 'n Cough 4 Kids. Hyland's 4 Kids Cold 'n Cough medicine provides natural and effective relief of common cold symptoms in children ages 2+. The Cold 'n Cough Syrup formula is specially formulated with natural active ingredients to help relieve congestion, runny nose, sore throat, sneezing and coughing.What I really love is that the formulas are always safe, are free of stimulant side effects, and do not contain artificial colors or flavors.
3. Another favorite would have to be the Teething Gel. When my little ones were teething. Hyland's was always my go to remedy. All you have to do is simply rub a small amount of the gel on to your baby's gums for instant pain relief. The special formula is made with no added artificial colors, dyes or parabens, and it also contains no benzocaine.
Head over to Target.com To find out more about Hyland's product's.