Disclosure: I received this item as an advertorial.
If you have an iPhone 6 then you will love this iPhone case that also serves as a wallet. I recently received the Flip Wallet Cases for my iPhone for the purpose of review and I love it. There are times when all I want to do is carry my cell phone and my drivers license and maybe a credit card, and this makes it super simple to do.
Here are just a few of the features:
Protective case, designed with flexibility in mind. Serves as a case, a wallet & a stand for your iPhone 6.
Internal cradle for your Apple iPhone 6 is built to house it securely. The device snaps easily in and out of the cradle as it would in any protective skin.
Invisible magnetic flap closure further ensures your device's safety, while staying out of sight & keeping the lines of the case elegant.
Our Wallet Case offers 3 slots for Credit and/or other cards and a larger slot underneath for cash.
The Folio Case is ready for the occasional movie watching. It folds easily into a stand.
The best part is, you can use your Apple iPhone 6 as if it wasn't in a case & don't worry about damaging it. All the functionality of your device is and unobstructed while the case is keeping it secure.
Although the case that I received was black, the cases are available in a wide array of colors.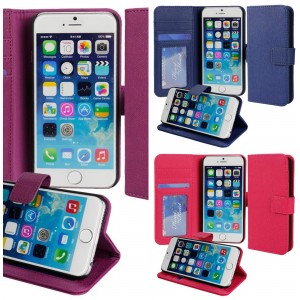 Head over here  to Abacus247Cases and get your very own Flip Wallet Case for you iPhone 6.