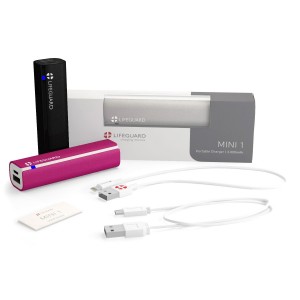 If you have a cell phone. You have a some time or another, experienced the dreaded dead cellphone. If you are anything like me, you always loose battery life at the most inconvenient time. If you have experienced this, I have good news for you today.
I recently received the +LIFEGUARD MINI 1 and it is truly a life saver. Just in case you have never heard of it before.
The +LIFEGUARD MINI 1 is the best portable external battery available on the Market. This compact well designed product has a premium smart battery that will save your cell phone battery hundreds of times with rapid and full charges.
WHY +LIFEGUARD MINI 1?
SMART PLUG & PLAY SAMSUNG GRADE "A" CELL BATTERY.REAL 3000mAh CAPACITY – GET YOUR DEVICE 100% CHARGED ON 1.5 TO 2.5 HOURS.5.91IN APPLE COMPATIBLE LIGHTNING CABLE PROVIED FOR FREE! (LIMITED TIME OFFER).THOUGH ALUMINIUM SHELL MAKES IT IMPACT RESISTANT.CAN BE RECHARGED MORE THAN 800 TIMES.

CE, RoHS AND FCC CERTIFIED.
The best part is that it is compatible with various devices.
APPLE DEVICES:
iPhones: 5S, 5C, 5, 4S, 4.
iPods
ANDROID DEVICES:
HTC: Oce X, S, V/Sensation XE XL/EVO 4G/Radar 4G/Inspire 4G/ThunderBolt
SAMSUNG: Galaxy S5, S4, S3, S2, Note 2 S2, Nexus, Galaxy Note, Focus S, Infuse
Google: Nexus 5, 4, Google Glass
Motorola: Droid Razr, Bionic, Atrix 2, Triumph.
Amazon: Fire Phone
Other cell phones, MP3. MP4, digital camera, and other with DC 5V input.
SPECIFICATIONS
Battery type: Lithium ion
Capavity: 3000mAh
Charging time (wall charger): Max 5h
Charging time (computer): Max 12h
Input: 5V, 0.8A
Output: 5V, 1A
Size: 3.8*1*0.9in
Weight: 3.45oz
Life cycle: ~800 cycles
I'm also happy to say that the +LIFEGUARD's MINI 1 is backed by an 18-month money-back guarantee.
The +LIFEGUARD's MINI 1 is affordably available on Amazon.
I received one or more of the products mentioned above for free using Tomoson.com. Regardless, I only recommend products or services I use personally and believe will be good for my readers.