A spirited and inspiring tale of hope and courage, LONG WAY NORTH tells the story of a young heroine persevering through a physical and emotional journey to find her explorer grandfather and his lost ship, the Davai.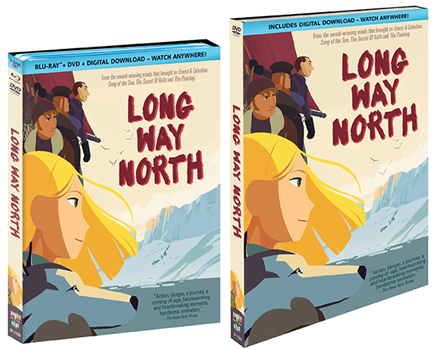 This award-winning animated movie offers an immersive cinematic adventure that brims with heart, action, powerful storytelling and gorgeous animation in equal measure. Check out this sneak peak in this trailer:
LONG WAY NORTH is set in the late 19th century Saint Petersburg. Sacha, a young girl from the Russian aristocracy, dreams of the Great North and anguishes over the fate of her grandfather, Oloukine, a renowned scientist and Arctic explorer who has yet to return from his latest expedition to conquer the North Pole.
Sacha has always been fascinated by the adventurous life of her grandfather and has the same calling as Oloukine to be an explorer. But Sacha's parents, who already made arrangements for her marriage, strongly disapprove the idea to say the least. Defying her destiny, Sacha flees her home and launches an adventure-filled quest toward the Great North in search of Oloukine and his ship.
LONG WAY NORTH features an exceptional English voice cast of Chloé Dunn, Vivienne Vermes, Peter Hudson, Antony Hickling, Tom Perkins, Geoffrey Greenhill, Claire Harrison-Bullett, Bibi Jacob, Martin Lewis, Tom Morton, Leslie Clack, Kester Lovelace and Damian Corcoran. *French voice cast includes Christa Théret, Feodor Atkine, Thomas Sagols, Rémi Caillebot, Audrey Sablé, Fabirn Briche, Gabriel Le Doze and Boris Rehlinger.
You can access the Long Way North Study Guide here:
https://www.dropbox.com/s/gzp6fo7zika60tl/LWN%20Study%20Guide%208.5×11.pdf?dl=0   
LONG WAY NORTH DVD and two-disc Blu-ray+ DVD Combo Pack contain English and French audio tracks, English subtitles and insightful bonus content.
Conceptual pilot
Behind-the-scenes featurette
Interview with director Rémi Chayé and producer Henri Magalon
Still gallery – character design
Still gallery – concept art
Animated storyboards
More Info: http://www.longwaynorththemovie.com/
Stay in the loop as new movies are released:
SUBSCRIBE: http://bit.ly/1zaXQ10
Follow us on Facebook: http://on.fb.me/1keDYXV
Website: https://www.shoutfactory.com/shoutkids