Not Just Any Old Day Jewelry Makes Any Day Special
Disclosure:I received this product as an advertorial
Valentines Day is just around the corner and that means. Finding the special gift for that special someone in your life. If you are not familiar with Not Just Any Old Day. They are paving the way when it comes to making available the perfect gift to commemorate a special date.
I recently received the Mini Calendar Charm and bangle bracelet from Not Just Any Old Day and I really love it. The Not Just Any Old Day… It's your Special Day  Mini Calendar Charm looks amazing on an expandable wire bangle bracelet.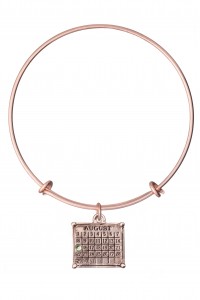 This adjustable bracelet ensures a perfect fit on just about every size wrist. The calendar bracelet looks great stacked with other charm bangles you may already have in your collection. Celebrate the ones you love with a unique personalized bracelet that will touch the heart. What I really love is the fact that the Calendar jewelry is made from recycled, lead-free pewter in the USA and personalized with love.
Not only do they offer bracelets, they also offer rings and necklaces.
Did you catch Hollywood Game Night on NBC and see actress Kym Whitley proudly wearing a Not Just Any Old Day…It's Your Special Day Crown Calendar Charm Necklace? Check it out below!
Kim Whitley is shown on left.
Meet Not Just Any Old Day…It's Your Special Day® Calendar Crown Pendant. Mark your calendar charm with a special date such as the birth of a child, an anniversary or any date that's special to you. It's  perfect for gift giving! The Calendar Datesake™ Calendar Crown pendant is a hip, stylish accessory that is handcrafted from recycled, lead-free pewter and made in the USA. Available in the following finishes: silver, brass and rose gold. Engraving is also available on the back of charm. Retails for $49.99.
If you are looking for gorgeous jewelry that commemorates your special day, I highly recommend Not Just Any Old Day.