Maple Harbor Offers Quality Home Decor #CreatingHomesTogether
Disclosure: I received this item as an advertorial

If you are looking for quality home decoration products. I highly recommend Maple Harbor. I  was recently sent for the purpose of review the Dantilla Rose 12-Piece Comforter Set and I love it!! Not only do I love it, my entire family loves it (I'm not sure if that's good or bad).
This comforter set is the most comfortable bedding that I have slept on in a very long time. This set is made of the finest materials , silk and cotton. My husband can't say enough regarding how much he loves this set. I asked my 6 year old daughter to test the set out and she literally fell asleep.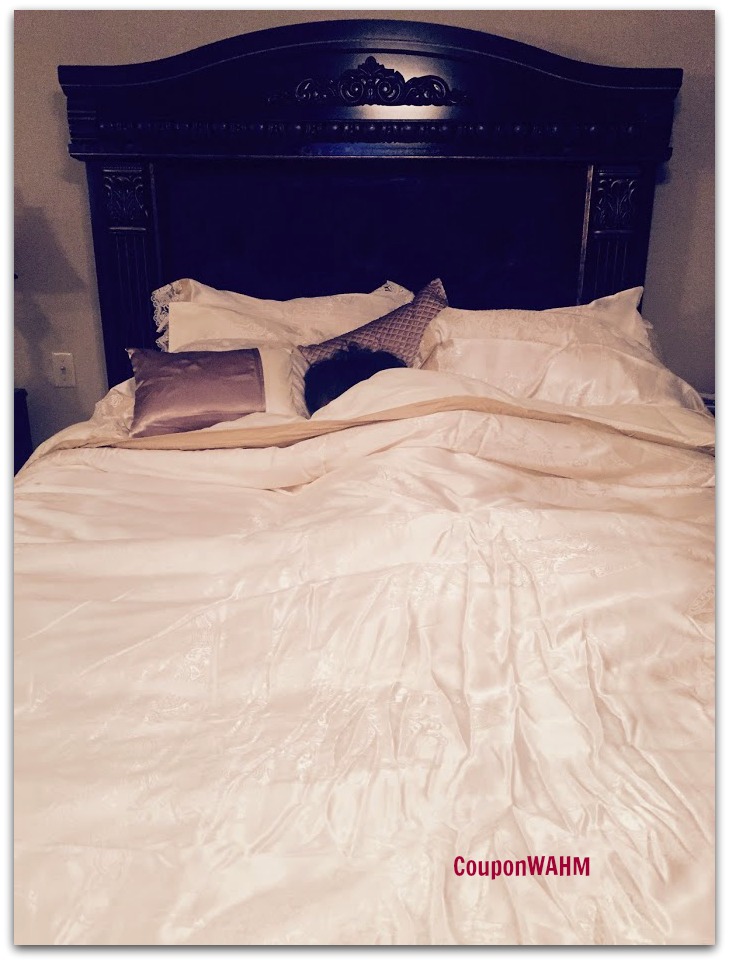 The Dantilla Rose 12-Piece Comforter Set offers the same feeling that you get when sleeping at a high-end hotel. The front side of the comforter is made of silk and the reverse side is 100% cotton 300 thread count and the sheet sets are also made of 100% cotton with 300 thread count. The comforter comes in a neutral cream-color, accented with gold and cocoa hues. It will instantly bring charm to your room. Designed with a light white floral lace border, and fine ornamental detailing, this exquisite bedding will give you the elegance you are looking for.
The set includes:
1- Comforter
1- Bed Skirt
1- Fitted Sheet
1- Flat Sheet
2- Cushions
2- Pillow Cases
2- Pillow Shams
2- Euro Shams
DIMENSIONS:
Comforter: 102.5″ x 96″ + 2″
Bed Skirt: 78.5″ x 78.5″ + 16.5″
Fitted Sheet: 78.5″ x 80″ + 15.5″
Flat Sheet: 108″ x 102″
Cushion: 15.5″ x 12″
Cushion: 17.5″ x 17.5″
Pillow Cases: 39.5″ x 19.5″
Pillow Shams: 35.5″ x 19.5″ + 2″
Euro Shams: 25.5″ x 25.5″ + 2″
Just in case you are not familiar with Maple Harbour. They are a Canadian based linen, textile, and home decoration company with a mantra of making homes feel like homes. They pay close attention to all things related to well-being, relaxation, and of course personal style. Maple Harbour  does their best to help create a lasting place to live.
One thing that I love about this company is that they are devoted to creating and delivering accessible quality products.From Kitchen,Kids, Bedding and more. They offer the Maple Harbour Resource Linen 101 Guide, the Maple Harbour Guarantee on all their products and complimentary design and decor tips to help people feel good in their homes.
I especially love the fact that Maple Harbour collaborates with a number of non-profit shelters and adoption centers who are working to provide loving homes for longing animals. A portion of your purchase is contributed directly to the organization of your choice, helping to create homes across the country while you create yours.
To find out more about Maple Harbour: http://mapleharbour.ca/
Stay connected:
Follow Us