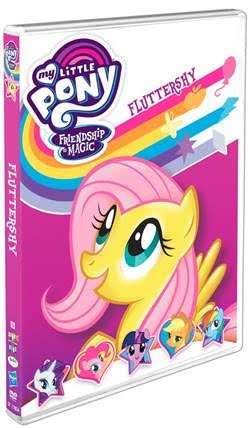 Not every Pegasus pony in Equestria is the same. Just ask Rainbow Dash and Fluttershy. While Rainbow Dash is bold and daring, Fluttershy is quite reserved and caring. But that's what makes Fluttershy such a wonderful friend to everyone around her, whether they're her pony friends, like Twilight Sparkle, Rarity, Pinkie Pie, Applejack and, yes, even Rainbow Dash , or her non-equestrian friends, like Angel the bunny. Join in for five adventures that feature everypony's lovably quiet Pegasus, Fluttershy.
My Little Pony – Friendship Is Magic: Fluttershy carries a suggested list price of $14.98 and is now available for pre-order at amazon.com, amazon.ca,and shoutkids.com.
Episodes Include:
Green Isn't Your Color
Flutter Brutter
Buckball Season
Viva Las Pegasus
Fluttershy Leans  In
Bonus Feature:
Sing-Along
Head over to Shoutfactory for more info.