Disclosure. I received this product as an advertorial. All opinions are my own and may differ from those of yours.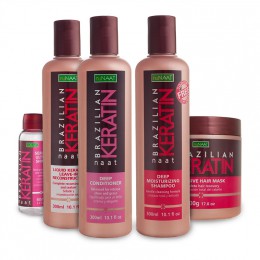 I was very concerned about the dryness and breakage that my daughter was experiencing. After search and searching, we finally found a product that we love and has actually worked. Hear how much my daughters hair has improved since using these products and check out my full review here:
NUNAAT BRAZILIAN KERATIN DAILY CARE WORKS WONDERS ON NATURAL HAIR
It restores your hairs nutritional balance, and gives you smooth, strong, and flexible hair. NAAT Brazilian Keratin Daily Care Collection is perfect for both restoration, and maintaining hair perfectly straightened in between professional treatments. Gain control no matter your texture or hair type, the NAAT Brazilian Keratin Daily Care treatment is for you. From the comfort and privacy of your own bathroom, you regenerate and strengthen hair fibers while restoring the natural shine and softness. The treatment repairs damaged cuticles and seals them, while turning down the frizz, reducing your volume.
BENEFITS
Works with all hair types to repair cuticle damage
Regenerates & strengthens hair fibers while restoring natural shine & softness
Seals hair cuticles to reduce volume and frizz
Makes hair resilient & healthy
Formaldehyde & sodium chloride free
One of our favoirtes is the leave in conditioner. Check out this video to hear why:

To find out more and to see their entire product line: http://www.nunaat.com/
Stay connected as new products are introduced:
https://www.facebook.com/nunaat