Restaurants Open On Christmas Day 2020
Restaurants Open On Christmas Day 2020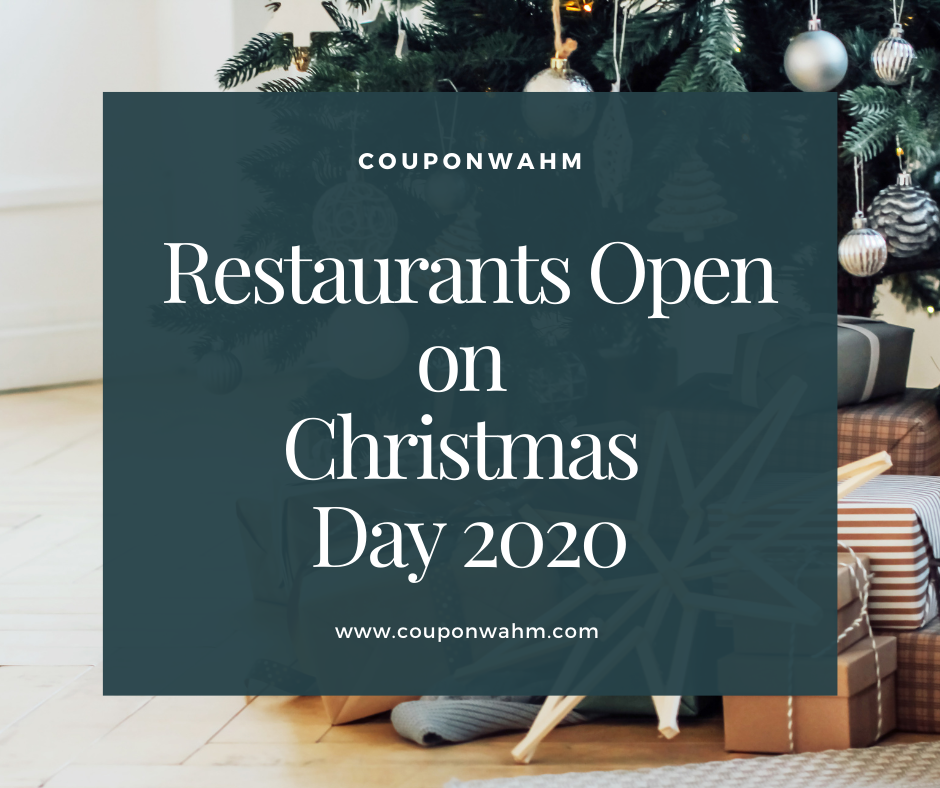 Christmas is just around the corner. If you don't feel like preparing a big meal this year due to all of the social distancing restrictions. Here's a list of restaurants that are open on Christmas Day, 2020.2 p.m.
Benihana is open for both lunch and dinner on Christmas day. Get your fix in and celebrate the holidays with a Benihana Christmas!
Holidays are Boston Market's speciality, and this year they're making it even easier for you to get a great meal. While you can dine at select participating locations, Boston Market also has order pickups and meal deliveries available. Choose from their massive à la carte menu, or opt for your choice of prime rib, turkey or ham. Plus, if you place your order early enough, they'll even deliver to your house. Talk about a Christmas miracle.
If you're craving wings for Christmas, you're in luck! Some locations will have reduced holiday hours, so be sure to check with your local restaurant so you don't miss out.
Buca opens at 11 a.m. on Christmas Day with Italian dishes galore for you and your guests. They also have catering offerings. On Christmas Eve they close at 10 p.m. and on Christmas Day at 9 p.m., but you should make reservations now!
Start a new holiday tradition of devouring plates of flavor-packed buffalo wings! The wild restaurant will be open on Christmas Day this year, but hours may vary by location. So be sure to check with your local restaurant first. Enjoy!
In this past, all Chart House locations were open (Atlantic City, San Francisco and Cincinnati were not) so check with your local location.
Celebrate Christmas with Cracker Barrel's heat-and-serve meals. You can order online and pick up a day or two before Christmas Day. NOTE: Cracker Barrel isn't open on Christmas Day; the restaurant recommends ordering at least 24 hours in advance of planned pickup. And meal pickup is available 12/21–12/24 (until 1 p.m.). Plus, holiday meals come complete with ham, delicious sides and your choice of pie. Yummy!
Del Frisco's Grill
They will be open, but make sure to make a reservation at your local restaurant. They will be open from 10 a.m. to 11 p.m. at most locations.
Del Taco will be open for all your taco need on Christmas day, but be sure to check the hours at your local restaurant.
Want breakfast for Christmas dinner this year? Go crazy with some pumpkin spice pancakes! They are open 24/7 on both Christmas Day and Christmas Eve, and you can choose from multiple special options, such as their turkey and dressing dinner pack, cinnamon roll pancake breakfast and pumpkin or pecan pies.
If you're craving pizza for Christmas dinner, no shade! The popular pizzeria will be open and ready for pick up or delivery, proving there's never a bad time for pizza.
No matter if you like your coffee hot or cold, you can pick it up at your local store on December 24 and December 25. Hours may vary, so check with your local spot.
Fleming's Prime Steakhouse & Wine Bar
Celebrate the season at Fleming's Steakhouse! Their 5-course Hall Wine Dinner Experience that will let you savor exquisite pairings at your personal table in restaurant or
virtually at home this season. They are only open on Christmas Eve at 4 p.m. local time and curbside pickup is available at 12 p.m. Be sure to call ahead and make a reservation or order online.
The popular Brazilian restaurant is open from 11 a.m. to 10 p.m. on Christmas Day. Enjoy their signature Dry Aged Long Bone Ribeye special for groups of four or more, or opt for the full Churrasco Experience. Either way, you're sure to enjoy an extravagant Christmas feast at Fogo de Chão–but be sure to make a reservation!
Amp up your Christmas Day with some rock and roll! Most will be open until 11 p.m. on December 25, but check your local Hard Rock Cafe to make sure.
Huddle House will be open this Christmas so you can indulge in all your breakfast favs.
Let early morning pancakes give you the energy to get through the day! Luckily, it's easy to grab your fix before heading over to Grandma's house because IHOP restaurants are open Christmas Eve and Christmas Day. But hours may vary by restaurant location, so check with your local store first.
Open! They will have adjusted hours, but most locations will be open this year.
Enjoy a three-course meal featuring selections of salad, soup, pasta and desserts for $25. they are open from 11 a.m. to 9 p.m. on Christmas Eve and Christmas Day, but make reservations!
If you want seafood or surf and turf this year, McCormick & Schmick's is the place to go! Make sure to get a reservation.
On Christmas Day you can still get your fry fix! McDonald's will be open, but give them a call first to make sure you know the hours at your local store.
Savor the holidays at Morton's The Steakhouse! They are open and serving up some delicious food this Christmas Eve and Christmas Day. Make sure you make a reservation since seating will be limited due to limited capacity from COVID-19 restriction. You can also order to-go. We suggest ordering one of their famous sparkling cocktails!
Nothing wrong with celebrating Christmas with Chinese food! Most locations will be open on December 25, but not all, so you should check with your closest location.
All Perkins locations will be open on Christmas Eve and most will be open on Christmas Day varying by location, so call ahead to your local restaurant. Perkins offers a special Christmas menu with a delicious Turkey Dinner deal that's sure to delight!
Celebrate Christmas with a steak dinner! Restaurant hours vary by location, but most Ruth's Chris Steak Houses will be open on Christmas Eve and Christmas Day. Choose from a three-course seasonal special or the "Holiday Surf & Turf," both starting at $54.95. Celebrating at home? Make your dinner preparation easy and elegant with Ruth's Sides To Go menu.
Smith & Wollensky promises to "make your holiday memorable" with their signature winter menu that features hearty seasonal flavors, like prime dry-aged steaks, fresh seafood and exceptional bar fare. But don't miss out on their special "Holiday Wine by the Glass" list of wines that are usually only available by the bottle. Cheers to that!
Stay caffeinated on Christmas Day with a latte or Americano from your favorite coffee chain: Starbucks! The popular restaurant will be open all day long. To make it even better, Starbucks will likely have some sort of sale during the holidays, whether it's BOGO drinks or limited-edition Frappuccinos. Java good time!
Not surprising from a restaurant that's known for never closing, Waffle House will be open 24/7 on Christmas Day. So stop by anytime you like for your breakfast-food fix. Don't forget to pour on lots of syrup!
Thank you RetailMeNot.  for compiling this list.