#TakeBackYourLife takes you on a 40 journey to Peace #FlyBy
"Disclosure (in accordance with the FTC's 16 CFR, Part 255: "Guides Concerning the Use of Endorsements and Testimonials in Advertising"): Many thanks to Propeller Consulting, LLC and HCCP for providing this prize for the giveaway and review. Choice of winners and opinions are 100% my own and NOT influenced by monetary compensation. I did receive a sample of the product in exchange for this review and post.
I recently received a copy of the new book by Levi Lusko entitled Take Back Your Life. This is my first time reading one of Levi Lusko books who is the founder and lead pastor of Fresh Life Church, located in Montana, Wyoming, Oregon, and Utah. Unbeknownst to me, he is the bestselling author of Through the Eyes of a Lion, Swipe Right, and I Declare War.  I must admit, I am very impressed by his work.
Take back your life is not your regular devotional, its' divided into 6 weeks and it's a 40 day devotional versus your average 30 day devotional. I love the fact that although he's a Pastor it's very laid back, easy to read and the devotionals are relatable no matter what the reader's situation is.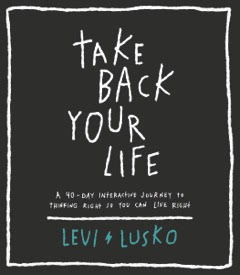 Take Back Your Life will help you:
get out of your own way by learning to think right so you can live right,
find purpose by discovering that God will do great things with your imperfect progress, and
learn that your pain is not an obstacle to being used by God but an opportunity to be used like never before.
This is more than a devotional; it's very similar to a self-help book. No matter what's weighing you down or holding you back you will be presented with a different way of thinking after just a few weeks of reading.
Here's a snippet of what you can expect from the book. Listen to day one and day two of Take Back Your Life on Audiobook.
And an added bonus. The author is also offering a 4-day pdf version of  Take Back Your Life for kids.  Not only can you Take back your life, but so can your children.
For more information on Pastor Lusko or to get your copy of Take Back Your Life, head over to Amazon.