The Legend Of The #EasterRobin Teaches Faith and Compassion #reviews #FlyBy
"Disclosure (in accordance with the FTC's 16 CFR, Part 255: "Guides Concerning the Use of Endorsements and Testimonials in Advertising"): Many thanks to Propeller Consulting, LLC for providing this book as an advertorial.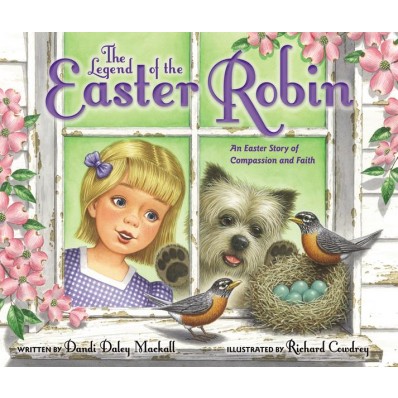 If you are looking for a fun book to celebrate the upcoming Easter holiday. You will love the newly released book entitled The Legend of the Easter Robin.
In case you are not familiar, The Legend of the Easter Robin will captivate and teach your child about compassion and faith. Check out this video for a sneak peak.
How cute is that? In the center of the nest lay one perfect egg, the color of a spring sky. The father robin sat on a branch nearby, guarding his family. Tressa spotted raccoon tracks below and a blue jay eyeing the nest. "Gran, how are we going to keep the egg safe?" "We'll have to leave that one to the Creator," Gran said. Robins have built a nest on the window ledge at Grandmother's house! Tressa is thrilled―and concerned. What will happen to the sky-blue egg laid by the mother robin? As more eggs appear, Tressa witnesses the daily drama of the robins' nest and learns how God cares for all creatures. Besides watching the birds, there are Easter eggs to color. And there is a very special story to hear―a tale of long ago about one small bird with a very big heart. How did the robin get its red breast? Tressa is about to find out as Gran tells her the story of the Easter robin.
I recently received this book for my 6 year old, and she really loves it. The book is beautifully illustrated which causes children to want to read the story again and again. The book is geared toward children ages 4-8 and is 32 pages long.
One lucky reader will win a copy of the book in an upcoming giveaway.
To stay connected and to get a copy of the book: