Tips To Save Even More Than You Think You Can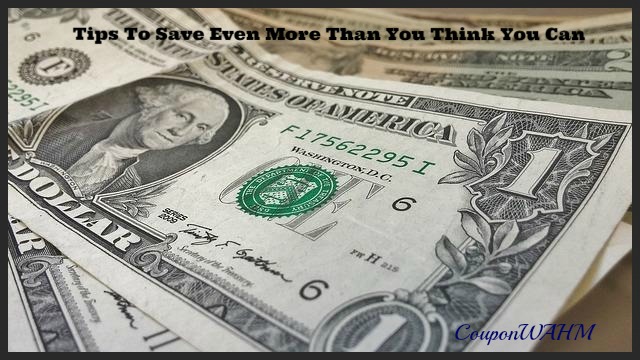 Look around. Almost everything around can help you save money. Look at it!
Let me give you some hints:
Loose change: Do you see that little coin of fifty cents lying there, on the ground? There are a number of them lying here and there. Keep a piggy box in your living room and put these coins in it. By the end of the year, you might be amazed, looking at the total amount you have saved.
Track your card: Review your credit card statement every time. It will help you know the amount you have spent unnecessarily. This includes interests and charges you have paid, which could have been avoided.
Review your purchases: With every purchase, you make, be sure to keep the receipts safe. This will help you review your purchases. While reviewing, mark items that have been bought, but have not been used or have not been worth buying. This will prevent you from buying them again.
Take care of yourself: Prevention is better than cure. So, take care of yourself and you will save hundreds of dollars, visiting the doctor and dentist.
Control your expenses: People tend to add unnecessary expenses to their count. Such unnecessary expenses on activities like outings, entertainment, transportation, etc. can be reduced. Here, the focus is on reducing the expenses and not wiping it out entirely.
Get the discounts: There are a number of stores offering discounts on their products. Make the most of it. For additional free shipping coupons, you can visit https://www.chameleonjohn.com. They offer a variety of discount coupons to satisfy your needs.
Save yourself from bad habits: Drugs and cigarettes are taking your life away. Learn about it. It's like; you are paying someone so that they can kill you slowly. This is something you cannot let go of at one time. So, control your bad habits and start reducing the count. With this, you will notice that you are even saving hundreds of dollars in a year.
Short-term savings: Make short-term goals. Let's say, this week you have to save $20. If you achieve this goal, next week the count should be for $30 and so on. With short-term goals, keeping track of them is easy. With a yearly plan, tracking will be difficult. Sp, make short-term goals and know that your efforts are not being wasted. Note: Make realistic goals. If you earn $100 a week, don't try to save $100 in the week. Keep in mind that you have other needs too.
Buy online: There are a number of online stores offering goods at a discounted price. Some of them offer free shipping too. Make the most of this opportunity and save a handful of dollars on every purchase. To make your transaction even cheaper, visit Chameleonjohn.com. They offer amazing discount coupons.
Substitutes: Early morning, you love to have your tea or coffee, while you are still in your bed. But is it necessary to have premium tea or coffee? Look for substitutes that offer the same great taste (or similar) and do not cost much. Similarly, while having dinner at a restaurant, look for alternatives.
Lunch to work: Homemade food keeps you healthy and costs less. So, get your lunch to work.
Shopping list: Before going to the grocery, make a shopping list. Note every item, you need. Once you are at the grocery shop, make sure that you buy items noted on the list ONLY. Why? Because we love to look around and when we do that, we tend to buy things we don't need. So, control your urge and buy things you have noted on your list only.
Generic drugs: They save you hundreds of dollars annually and are as effective as brand-name drugs. So, go for generic drugs.
Banking-related: There are a number of things you should keep in mind when we talk about banking transactions.
Avoid overdraft fees.
Make early credit card payments and save on the interest amount.
Entertainment: We all need entertainment. But can we save on our entertainment costs too? Check your local newspapers and websites. You will learn about a number of options that will lead you to inexpensive (or even free) forms of entertainment. Some examples are sports events, low-cost parks, etc.
Cable: If possible, give up premium cable channels. Yes, this is a bit harsh, but you can save a lot by giving up premium cable channels. Note: If you keep just one premium cable channel and give up on the rest, you will still save a lot.
Borrow or rent: With movies and books, borrowing or renting them is better than purchasing them.
Sale: Items available during the sale are good and cheap. Make the most of this opportunity. This way, you will save time and money.
Car health: If your car is healthy, you will not have to shell out on getting it repaired. Also, avoid fast start-ups and stops while driving.
Public Transit: Use public transit instead of cabs. If you frequently move, you will be able to save a lot annually.
Cheap fares: Compare sources and book tickets at the cheapest rates. There are a number of sources you should look into before booking your air tickets. If you want an additional discount on your purchases, visit chamelenjohn.com. There are a number of discount coupons that will help you get an amazing discount on your air tickets.
Rent it out: If you have relatively large houses and apartments, use it in a way that you can rent a section to someone else.
Rented apartment? Look for one that is near your workplace: If you are living in a rented apartment, make sure it is near to your workplace. This will help you save on your traveling costs.
Energy audit: Your local gas or electric utility can help you with a free or low-cost energy audit for your home. Get it done. It might help you reduce your costs while enjoying the same comfort levels.