Creative Valentine's Day Craft Idea's for Kids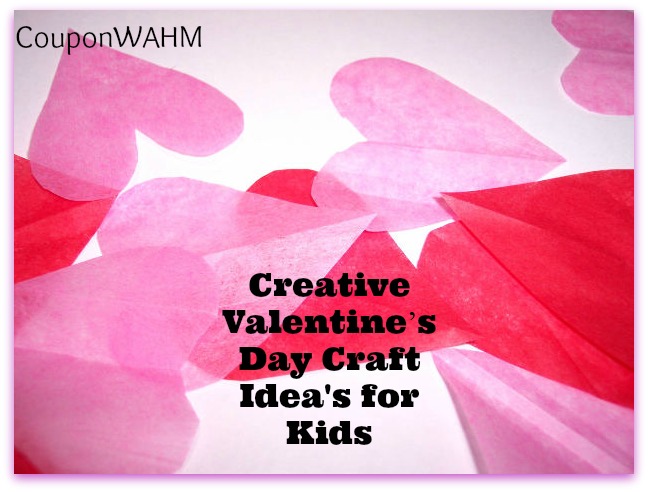 Valentines Day is just around the corner and that means lot's of fun and probably a Valentines Party at school. Whenever my children have a party in the class room we are often stumped on what to send in for their classmates. Quit naturally I don't want to spend a lot of money so the best thing that I can think to do is, make some gifts.
Kids like to create things.  Valentine's Day is the perfect time to let them get creative. If you are like me and looking for some ideas.
Here are a few to get the kids started:
If there are girls in your child's class, jewelry is a good craft.  Stores sell kits to create bracelets, necklaces and rings.  Your kids can visit a craft store and choose their own necklace material and the beads to go on them.  In keeping with the theme of the day, they can choose heart-shaped beads in various colors and a necklace material that is suitable for school age little girls.  Create one necklace yourself so that they can see how it is done.  Matching bracelets can be made using the same beads.
Kids can give their teachers a bouquet of roses.  These aren't just any roses!  These special roses are made of tissue paper and pipe cleaners.  Show kids how to fold the tissue paper and wrap it around the pipe cleaners.  The flowers can be presented in a vase or with a ribbon tied around them.
Candy is still the most popular thing to use for crafts.  Instead of beads, use candy to create bracelets for boys in the class.  Candy pieces can be strung over a piece of string.  It'll look nice at first and the boys can nibble on the candy throughout the day, kind of like a snack on the go.
Valentine's Day crafts can be created for family members.  If grandma is into flowers, kids can give them a flower pot with seeds and a little bag of potting soil.  Using paints, kids can decorate the pots in Valentine's Day fashion.
Instead of buying packs of Valentine's Day cards, let the kids use a card program and make their own for other members of the family.  They can add whatever they want to the card.  Some cards come blank for the kids to write what they want or with cute sayings already inside.
Kids can make Valentine's Day decorations for the house to put everyone in the mood to express their love.  Using a piece of string, construction paper, scissors and glue, they can create a banner to be hung in the kitchen or anywhere in the house.  Each paper heart can contain one letter in the words "Valentine's Day".
Make arrows for the boys so that they can pretend to be Cupid.  Instead of metal, use wooden skewers as the arrow.  Styrofoam pieces in the shape of hearts can be painted red and stuck on the end of the skewer.  Pieces of ribbon can be glued to the other end to act as feathers on the arrow.  To create a quiver for the arrows, use an empty cereal box.
Your child can make a Valentine's Day box for each child to hold their precious cards.  The boxes can be purchased at a dollar store.  If the boxes are not already decorated for the occasion, kids can use markers or paint to add hearts to the box.  Write each child's name on the outside of the box.  A piece or candy can be added to the box so that the kids don't open it and find it empty.
Valentine's Day is fun for kids.  They get to have a good time making crafts for others and enjoying gifts given to them.