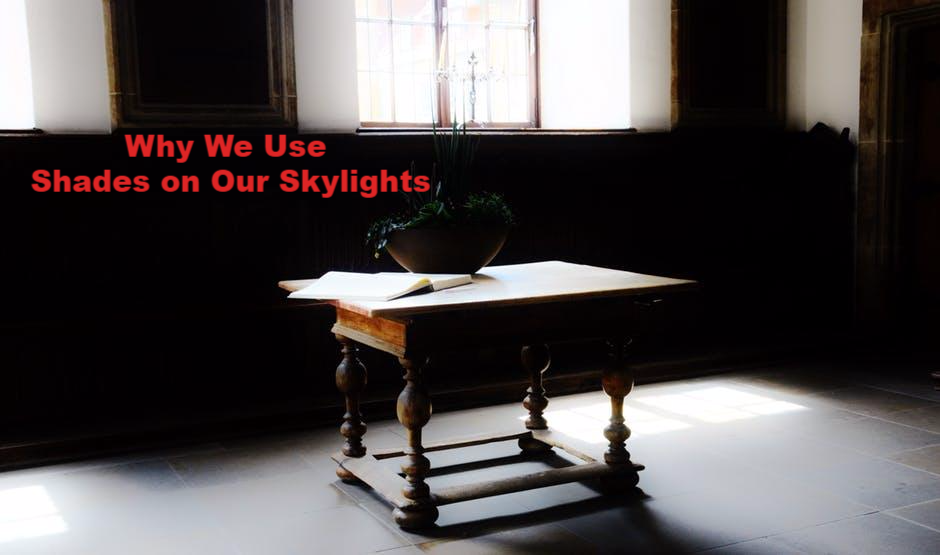 There are numerous benefits of skylights in terms of our personal well-being. For my family, we like the increase in natural sunlight without having to endure the heat or cold of the outdoors.
Plus, there are the psychological effects of increased sunlight which just makes our rooms feel much happier and brighter. At the same time, harmful UV rays do penetrate our windows.
And, I don't want to have to make my children wear sunblock all day when they're in the house. We also like to nap in the living room on the weekends and during holidays.
So, it's nice to have a way to block sunlight during our lazy days.
UV Rays Penetrate Windows
I definitely do not want to reapply sunscreen on all of my three children every three to four hours–especially when they are in the house. While I do enjoy the sunlight, it is not necessary all-day long.
Plus, extensive exposure to UV rays can cause skin cancer, premature aging, eye damage and even sunburn. Not to mention, in the summer, it can get quite hot with the sun peering down on us.
As a result, I've recently installed skylight shades. I like the option of having more control over how much sunlight I allow in my house.
I also appreciate the shades for a barrier of privacy in the evenings. I'm not implying that strangers or drones will be hovering on my rooftops, but you never know.
Darkness is Necessary for Better Sleep
As a family, we often congregate in the kitchen and living room. These are where our skylights are located.
On the weekends, holidays and days off, we like to spend time in the living room watching our favorite shows or playing board games. Yes, we prefer board games to apps–it's much more interactive.
And, during the fun, some of us fall asleep. Yet, it's difficult to get a good nap going when the sun is blazing.
The brightness of the light matters. To illustrate, bright light decreases the release of melatonin–which, helps you feel more relaxed.
On the other hand, darkness increases melatonin levels. So, it is important for me to use our skylight shades when my family is napping.
Melatonin helps to combat inflammation and may even reduce aging of the brain. Not to mention, it is just very difficult to sleep under a bright light–even if it is the moon.
Style Statement
I've seen numerous homes with skylights, and I'm starting to see an increasing number of properties using skylight shades. What I love about them is they are so stylish.
We have fabric shades in a happy deep blue color that just looks beautiful when lowered. Plus, they're not as fussy as curtains.
To be honest, curtains would simply not work well for diffusing sunlight on skylights since you would have to nail them to the wall to prevent from hanging down. In contrast, the blue shades give our white walls a stunning pop of color and they stay perfectly in place.
Furthermore, the remote control makes it quite convenient to manage I have four skylights. Sometimes, I like to lower two shades and leave two skylights open for a muted effect.
It's actually a lot of fun controlling how much light comes into our home.
Final Thought
I love my skylights and the natural sunlight we get. Yet, I also love my skylight shades for giving me the ability to control the temperature and lighting in our home.