Bloggers Resources: Find Blogging Jobs On B2B's Job Board
Most bloggers begin their blogging journey as a means of finding an outlet. Most are stay at home moms who just want to find a way to express themselves and share their thoughts with others. However there are many that are using blogging as a means to making an income. It's not secret that starting out most bloggers don't even know where to begin to find blogging jobs and when they do unfortunately many jobs are just a waste of time.
I'm happy to say that I have found out about a great site called Business 2 Blogger.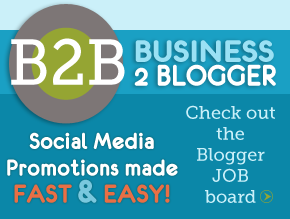 Business 2 Blogger helps companies find bloggers and vice versa. Business 2 Blogger is very easy to navigate and easy to use and best of all it is totally free for bloggers to sign up. To find out more about Business 2 Blogger check out this video.
A Business 2 Blogger Story from Shauna Callaghan on Vimeo.
Disclosure: This post contains affiliate links