There is nothing worst than a sick kid! There's no mom out there that likes to rub those red and sore noses that are caused by colds and allergies. I recently found out about a great product called Boogie Wipes. Boogie wipes great smelling wipes with a touch of saline.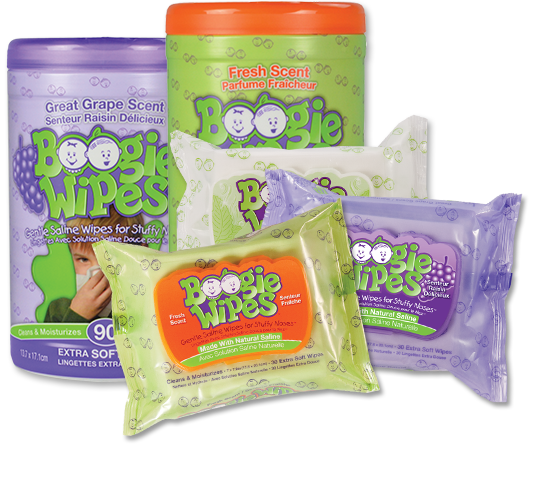 Check out this short video from the CEO & Co-Founder of Boogie Wipes Julie Pickens

The company has new 45 count packs of FRESH scent Boogie Wipes and also have 90 count canisters available now in most major retailers like Target, Walmart and Babies R Us. Be on the look out for some new products – Boogie Blasters – in a 12 count pack of Boogie Berry scented wipes, available at Walmart and Kroeger stores! They also have a new 10 count pack (Fresh and Grape) available.
Coming soon will be: Cotton Candy scented Boogie Blasters.  Boogie Mist – saline mist with a twist!
The great thing is that the boogie wipes are great for teachers to have in the classroom.  This kit contains 2 – 90 count canisters (1 Grape, 1 Fresh), 2 – 30 count packs (Grape, Fresh), 1 classroom poster, 50 samples, and 50 Boogie coupons.  It is available, exclusively, for schools, daycares, and professional facilities.  For purchase information please visit:  LittleBusyBodies.com
For coupons and to take the pledge head over to Boogie Wipes website. http://www.boogiewipes.com/coupon/
http://www.pinterest.com/boogiewipes/
https://www.facebook.com/boogiefans
http://instagram.com/boogiewipes