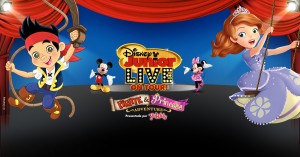 Yahoo!!! If you have a a little one, I'm sure you are familiar with Disney Junior and their popular character's. My little girl simply loves Princess Sophia and now she will be able to see them live at the new Disney Junior Live On Tour!
This year's theme is "Pirate & Princess Adventure" 
Check out this video and look at what you can expect:
As you can see, this is going to be a show that is not to be missed!!
Get swept up in the excitement as Sofia and her family prepare for a royal celebration that helps us all learn the true meaning of being a princess with a special appearance from Cinderella. Then it's off to Never Land where Jake and his swashbuckling friends Izzy and Cubby, with a little help from Peter Pan, battle Captain Hook to unlock treasure hidden inside a mysterious volcano. It's danger and dueling on the high seas as Jake discovers what it takes to be a true hero. Filled with new music, amazing effects, thrilling action and endless surprises, your whole family will sing, shout, and soar into the action when Disney Junior Live On Tour! Pirate & Princess Adventure Presented by Stonyfield YoKids Organic
Be sure to get to the show a little early because starting ten minutes before every performance join loveable Doc McStuffins for a special pre-show!
You can help Doc take care of one of her beloved toys with her own special brand of love and magic. Free to all ticket holders.
You can get tickets for the following:
Front Row: $55
VIP: $45
Price Level 3: $30
Price Level 4: $25
Price Level 5: $20
*$3.00 facility fee is not included in the prices above (not advertised)
Performance Times:
Sunday, March 1- 12PM/3PM/6PM
Ticket sales link: http://www.theqarena.com/events/detail/disney-junior-150301
One lucky reader is going to win a family four pack to the to Sunday's 6:00 PM show in a flash giveaway. Head over to Giveaways to enter to win.