Don't Let Being Frugal Lead to Insurance Mistakes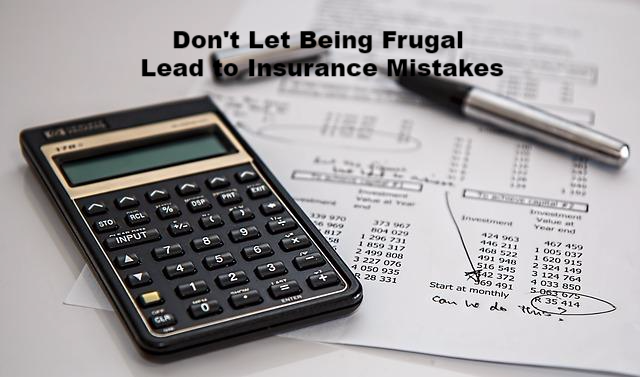 Don't Let Being Frugal Lead to Insurance Mistakes
There are many essential expenses that are at a set or fairly set price. You don't have much control over them and simply are stuck paying whatever the bill happens to be. However, there are other set expenses that you can have a bit of control over. These expenses enable you to try to save money and balance your budget better. One of these expenses is auto insurance.
When it comes to auto insurance costs, you do have some control over them. However, trying to get the lowest premium can sometimes lead to making a mistake that will hurt you in the end. Your best option is to be mindful when making changes to your insurance so you end up saving money but do not get yourself into a bad situation should you actually need to make a claim.
There are common mistakes people make when it comes to trying to save money on their auto insurance. The following outlines those mistakes and explains why they are something to avoid.
Buying Only the Minimum Required
Almost every state requires drivers to have auto insurance. Each state also sets a minimum amount of coverage each driver must have. Many people only get the minimum. However, this is often a huge mistake. These minimum amounts are often not high enough to provide you with the coverage you actually would need if you were to get into an accident.
You should be a bit more precise when choosing your coverage limits. Consider what the average accident costs are in your area and make sure your coverage matches up. In the end, if you were to get into an accident, you want to have enough insurance to cover it because in most cases, whatever your insurance doesn't cover is your responsibility.
Choosing Coverage Based Only on Price
While you obviously want to save money, choosing your insurance based only on price is a huge mistake. You have to look at the reliability and stability of the company. If you were to make a claim and the company cannot pay, then all the money you spent is useless. It is much better to shop for the best value where you are getting the most for your money.
Not Getting Enough Coverage
If you were to get into an accident, could you afford to pay to replace your vehicle? If you have a loan, would you be able to afford to pay it off and then buy a new vehicle? These are things you have to think about. Even if you do get collision and comprehensive coverage, you still need to be sure they are enough. Some companies offer gap coverage that will ensure your loan is paid in full should your car be totaled. This allows you to have a peace of mind that you won't be stuck with a bunch of costs after your insurance agency pays out on a claim.
Choosing the Wrong Deductible
Many people use their deductible to adjust their insurance costs. While this is a nice strategy, it doesn't always work out. You do not want to choose a deductible that is so high you could not afford to pay it should you need to make a claim. Keep in mind that you have to pay the deductible for your insurance company to pay anything on a claim. If you cannot pay it, then they won't pay either.
When it comes to saving money on auto insurance, you have to be smart. Some of your cost cutting ideas may actually be sabotaging you. Your ultimate goal should be to find a balance between savings and good coverage. This is not always easy, but it can be done so you end up with the right insurance coverage at the right price.