Gain Instant Rewards and Offers with the Elephanti App
If you are like me. You are getting all geared up to score some big savings on your Holiday Shopping.Before you head out, I want to share with you a new app that I recently found out about called Elephanti.
Elephanti is the ultimate shopping app,which helps consumers search and find where to buy the things that are on their shopping list.
Elephanti is super easy to use to find stores, restaurants and offers that match your search terms, from places nearby.Shoppers are able to add items to a shopping list (e.g. Levi's jeans, Fred Perry shoes, iPhone 4S) and the Elephanti app will be able to track the best route for shoppers to purchase these items from the nearest locations.
When shoppers are in a specific area, location‐based Elephanti will list the nearby offers and places that appeal to them based on their interests. The offers are sent to your mobile device for easy acess on the go.
In a nutshell. Elephanti  is a free iOS and Android app aimed at providing an all-in-one solution to Groupon, Yelp, and even OpenTable.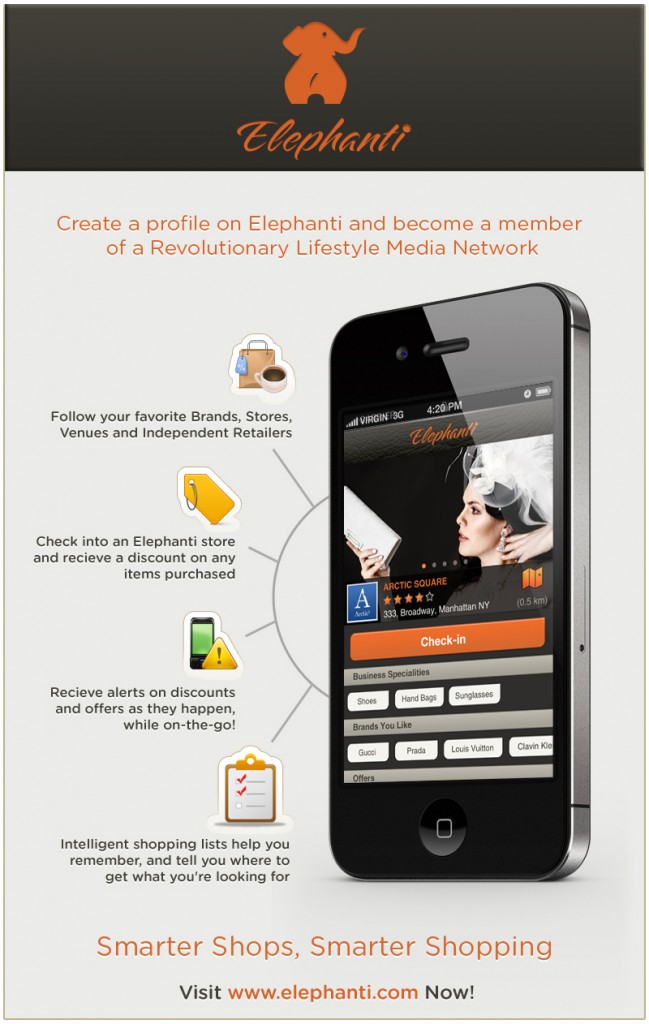 Key Features
Instant Rewards: Gain instant access to rewards and promotional offers by simply checking in to a store or location via the Elephanti app.

Personalized Notifications: Receive push notifications for special offers based on your interests.

Location-Based: Find promotional offers near you.

Shopping List: Create a shopping list of items you need, and track the best route to purchase them in nearby locations.

Consumer Reviews: Write reviews on your retail experiences, and read what others have to say about local merchants.

Free!
Best of all, the app is completely free!
 Try it out for yourself and see just how easy it is to use. If you are an iOS user or an Android user
Happy Shopping!