Get The Greatest Gifts For The #GreatestDad @BestBuy
disclaimer:  The reviewer has been compensated in the form of a Best Buy Gift Card and/or received the product/service at a reduced price or for free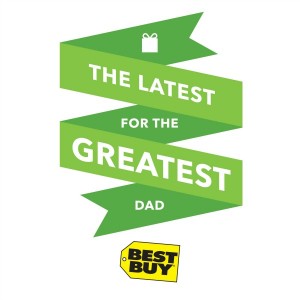 Wowzers!!! Can you believe how fast this year is going? I sure can't! School is just about out, summer vacation is just around the corner and so is Father's Day. Although my father passed away 15 years ago, I still try my best to make Father's Day extra special for my husband. We usually have a really big family gathering at my home or we reserve a room at his favorite Hibachi Restaurant and this year will not be any different. However my husband recently graduated from college so we are planing to surprise him with something extra special. My husband is such a family man, he is what I would call A Memory Maker. He is always taking pictures on his cell phone or making sure that someone has a camera or video going to be sure that the event is captured. Because of that, we will most likely get him a camera.
One of my go to stores is Best Buy. The reason that I love Best Buy so much is they have an awesome Low-price guarantee. http://bit.ly/LPGBBY
If you are shopping for a Memory Maker such as my husband: the Dad that makes sure that not only all the memories are captured and stored (video/photo) but keeps the family organized and under control. Gifts for him make his life easier; Dad pays the bills with his laptop, videos kids, back up storage for pictures, prints out schedules for baseball practices and games, etc. You will want to make Best Buy your first stop.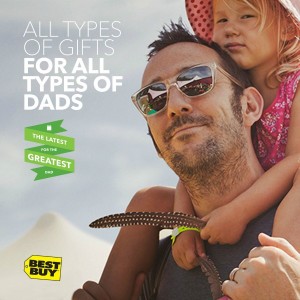 Maybe he's not a Memory Maker, perhaps he is an Entertainer,Gizmo Guru or Fitness Fanatic, no matter his persona  Best Buy has all types of gifts for all types of Dads that wont break the budget. Many begin are as low as $50.00. They have a great deal on the Nikon Camera that we are considering is only $129.00.
I have compiled a list for your convenience to make shopping even easier.
Gifts under $50
Roku Streaming HDMI Stick
Motorola S305 Headphones
Modal Case for iPhone 5/5s
Modal Bluetooth Speaker
Star Wars Trilogy: Episodes I-III Blu-ray
Star Wars Trilogy: Episodes IV-VI Blu-ray
Belkin Sportfit Armband for iPhone 5/5s & 5c
Griffin Survivor for iPhone 5/5s
Samsung Galaxy S 5 S-Views Case
Oster Cordless Rechargeable Electric Wine Bottle Opener
Tech21 Impacts Cell Phone Case
Eric Church – The Outsiders
Insignia Tablet Case
Zagg Invisi HD Shield
Twilight Zone: Fan Favorites
Plants vs. Zombies: Garden Warfare
Family Guy: Laugh It Up, Fuzzball Blu-ray
Cobra 2-Way Radio
RemoProtocol Remote-Controlled Helicopter
Panasonic Nose and Facial Hair Trimmer
Philips Norelco Electric Razor
Wahl Chrome Pro 25-Piece Haircutting Kit
Gifts under $100:
Powerbeats by Dr. Dre Clip-On Earbud Headphones
Lord of the Rings: The Motion Picture Trilogy [Extended Edition] Blu-ray
UE MINI BOOM Wireless Bluetooth Speaker
Lifeproof Cell Phone Case
In-Case Campus Laptop Bag
Targus Topload Laptop Case
Plantronics BackBeat GO 2 Bluetooth Earbud Headphones with Charging Case
Plantronics Voyager Bluetooth Headset
LG Tone Pro Bluetooth Headset
WowWee MIP Robot
The best part is that you can also get free shipping with qualified your purchase http://bit.ly/FreeShipBBY Get The Greatest Gifts For The #GreatestDad @BestBuy