Getting Organized Will Help Mornings Run Smoother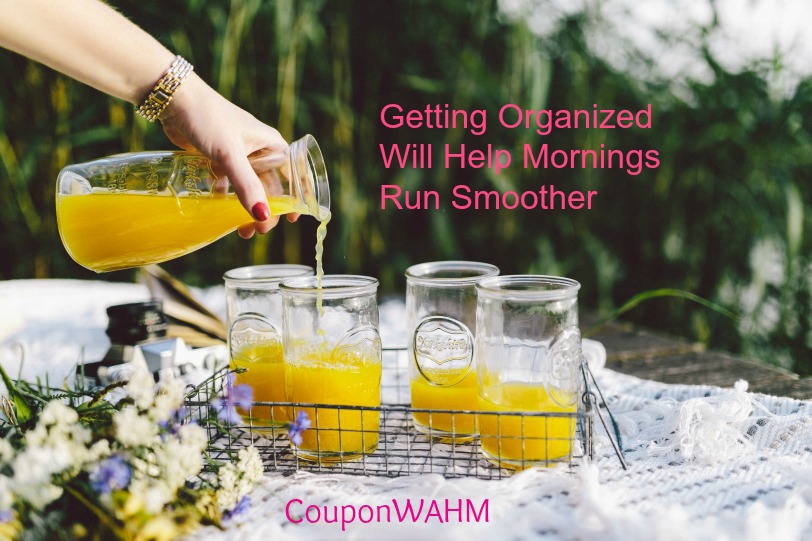 Moms all over the world often spend the morning frustrated because their children run behind. They know there has to be a better way. Using these sure-fire tips to make your morning routine run smoother, your day can start on a positive note rather than a sour one.
Your day will run much smoother if you do as much as you can the night before. It will reduce the amount of time everyone takes to get ready and there will be much less stress. Here are a few things you can do the night before to help you be better prepared to have a great morning:
* Shower or bathe – Schedule showers or baths for all of the children. If they can get clean the night before, that will be one less thing they'll have to do in the morning. Having the children bathe the night before will also ensure you have plenty of hot water for your own bath or shower.
* Set out clothes – Teach your children to choose and set out their clothes the night before. You can approve each outfit and ensure there are no repairs to be made. Don't forget to have your children find their shoes and socks to place with the outfit so all they have to do when they get up is get dressed.
* Pack their bag – Look through each child's book bag when they bring it home each day. Ask them what homework assignments they have and ensure they work on them. You'll also want to check to see if there are any important papers you need to see. Transfer any significant dates to your family calendar. Sign anything which requires your signature and then place everything that goes back to school back into your child's book bag. Place their book bag by the door so it's ready to pick up and go.
* Check the family calendar – It is very helpful to have a centralized family calendar that is easily accessible to everyone. Check the calendar the night before so you won't have any surprises. There may be doctor's appointments or your children may have after-school activities to attend. By checking the calendar before you go to bed you'll be able to make any necessary car pooling arrangements if necessary.
* Make lunches – Prepare lunches the night before if possible. If you can't pack the entire lunch, do what you can. Keep refrigerated items in the refrigerator until morning. Grab what you need to finish up what needs to be done and then pack each item in your child's lunch container.
* Set the table – Before heading to bed, set out the dishes you'll need for breakfast in the morning. Depending upon what you plan to prepare, you can also do some of that the night before. Pre-scramble the eggs or make the egg and milk mixture for French toast. Keep the milk or orange juice on a lower shelf so your younger children can help take things out of the refrigerator.
* Get kids to help with breakfast in the morning – Unless your children are very young they can, and probably should, help you with breakfast. Teach them to get the things necessary for the meal such as cereal, and bread for toast.
Finally, as you're working toward a morning routine that runs smoother, keep some often-needed things in your car. Hair brush, pencils, juice box and extra socks can be kept in a box and easily accessible if your children aren't being particularly helpful. Getting Organized Will Help Mornings Run Smoother. Give it a try and let me know how it goes.