**This post contains affiliate links and I will be compensated if you make a purchase after clicking on my links

Have a taste for a delicious burger or yummy tacos? How about a sweet tooth craving for some cookies or a donut? The problem is, you can't get out of that next meeting or don't feel like getting off the couch. Let Caviar take care of that for you and bring you all the food your craving right to your door.
For a limited time Caviar is offering $15 off $50 for the first 100 new customers, so hurry and order for the first time from Caviar today.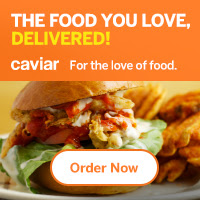 Check out some of the delicious options from Caviar below: