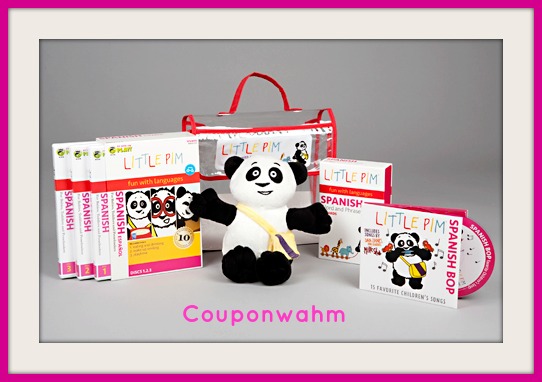 It's never to early to begin introducing a foreign language to children. I recently found a great product called Little Pim. Little Pim is a total  children's language series which teaches foreign languages to babies, toddlers and preschoolers. The company was founded by bilingual filmmaker and mom Julia Pimsleur. Little Pim has won winner of over 25 awards, been featured on the Today Show. Did you know that the best time for  a child to learn a language is under the age of 6?
Little Pim is available in Spanish and 9 other languages, Little Pim is the perfect way to teach Spanish to your kids.The video is very easy to follow. Watch this video to see it in action.

My little one really enjoyed the video. And tries to mimic some of what she saw.  I suspect before too long she will be fluently speaking Spanish 🙂 Don't miss the window of opportunity when it's easy for kids to learn. Little Pim's Entertainment Immersion Method uses strategic repetition of key vocabulary words for faster language acquisition. Introduce Your Child to a New Language with Little Pim Children's Language Series.
Little Pim now offers streaming. Get streaming access or download your choice of our 12 language programs for kids ages 0-6. Each video purchase comes with unlimited access to the language learning series of your choice including their companion guides and scripts.
Purchase a volume set or make it a bundle with the Little Pim panda bear kids love, vocabulary flashcard sets, board books, and music!
To find out more about Little Pim head over to their website. http://www.littlepim.com