disclosure: I received this product as an advertorial.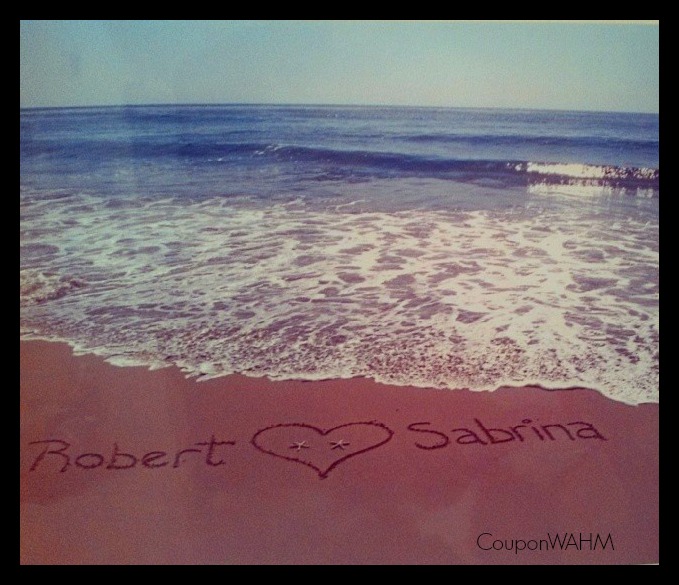 Commemorating a special event in your life with something extra special can seem hard to do or maybe you think that what you have in mind is just too cheesy or not classic enough. Nature's Notebook is an awesome site that allows you to celebrate any special occasion with items that are timeless. I was able to review one of their items called "Custom Sand Writing". It was absolutely stunning and was a unique way to remember our special day. Whether you are getting something for yourself or giving a gift to someone else, you will find the perfect gift at their site. The Names In The Sand piece would definitely make the ultimate wedding gift that is thoughtful and will leave the bride and groom in awe. This is not a fabricated picture with their names in it, but is actually their names written in real sun kissed sand. How romantic is that?
The scene is always different from picture to picture because waves are ever changing. No two gifts are alike. This is such a strong gift that is different from others that are typical of a wedding favor. Your names will be written in the sands of Southern California's beaches. It will truly be a great addition to anyones wedding memorabilia or as art work in their home. This could even make a great Valentine's gift or anniversary gift to celebrate your love for your significant other in a way that is unlike any other. This artwork is inspirational and will be a simple reminder that it is the small things in life that can really touch our hearts. The designer, Courtney Noelle, signs each print or framed piece of art with the beach where the photo was taken. This will provide the authenticity of your photo and gift. Multiple sizes and the option of color or black & white are available so you can find just the right size and style for the special someones in your life.
Check out this video and see for yourself some of the gift options available. You will also see Courtney at work.

There is also the option to add a starfish or seashell to the photograph and you will not be charged extra. You can even have the starfish used in your photo sent along with it to add that much more sentiment.
Nature's Notebook was born out of a spiritual connection to the ocean and beaches. Courtney Noelle was always wanting to inscribe words, names, thoughts, dreams, etc. in the sands of the beaches because the scenery was always changing. Uncertainty is all around us in our lives and she thought that the beach was the perfect way to capture this uncertainty. Expressions and memories are made magical through these beach photos that you will be able to cherish forever. She shared these as gifts with loved ones at first, but then reached out to the world to share these gifts with anyone and everyone. All she ever wanted was to share love and emotions captured in a sweet beach photo for you to love for all time.
Nature's Notebook website also offers items such as baby, friendship, inspirational and graduation gifts. It doesn't stop at photos at the beach either. There are jewelry lines and stationary to choose from along with bedding and phone cases.
If you are looking for a unique gift idea Natures Notebook is a winner! There is something for everyone. To find out more and to stay in the loop as new products are introduced. Connect with Natures Notebook over on Facebook: https://www.facebook.com/pages/Natures-Notebook-by-Courtney-Noelle/119653608069041 orTwitter: https://twitter.com/naturesnotebook