Need a Break from Cooking? Order from Caviar!
***This post contains affiliate links and I will be compensated if you make a purchase after clicking on my links
If your holiday season was anything like mine, there was a LOT of meal planning, grocery shopping, food prepping and cooking going on. Frankly, I am cooked-out! However, my family and I still have to eat. We all enjoy and appreciate delicious food, but we often don't want to deal with the hassle of driving to a restaurant—especially when the weather is inclement and bitter cold. Our solution? Order through Caviar!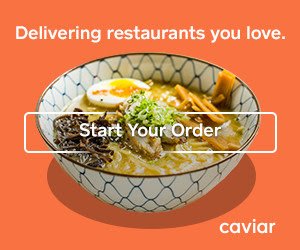 With Caviar, we get our favorite foods from our favorite restaurants delivered right to our front door. I don't have to rush to the grocery store after work or stress about what to prepare. We get to enjoy great food together as a family, hassle-free! Check-out the restaurants that Caviar delivers for. You'll be amazed at the selection!