Noxicare All Natural Pain Relief Cream That Works #reviews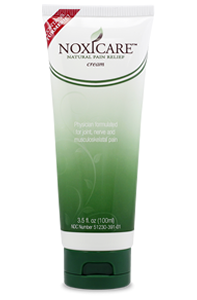 We have all experienced some type of pain whether it be Muscle Aches, Aching Joints, or Nerve Pain. If we haven't personally experienced it we probably know someone who has. That's where Noxicare Natural Pain Relief cream comes in. I recently injured my knee several years ago and experience occasional pain, I tried the Noxicare  Natural Pain Relief Cream and felt immediate relief, within a matter of days I noticed that the pain was gone.
So what is Noxicare the Noxicare natural pain relief is lightweight, non-greasy, and odorless?  And Features 7 of the world's most potent natural pain relievers: Turmeric, Willow Bark, Ginger, Holy Basil, Rosemary Extract, Alpha Lipoic Acids, Boswellia Extract.

Noxicare is a breakthrough natural pain relief formula, the first of its kind with Turmeric that quickly and effectively alleviates inflammation, muscle aches, and nerve pain—with NO known side effects and without a prescription. While some other products might reduce inflammation, decrease muscle aches or increase blood flow to ease painful nerve endings, Noxicare™ treats three types of pain—not by numbing the pain point—but by targeting the source of the pain with a natural formulation that deeply penetrates layers of skin to help promote the body's own healing process.
Available as a topical cream or capsules, Noxicare™ uses natural ingredients to provide fast, effective, long-lasting pain relief for:
Acute and chronic inflammation: your body's immune response to irritation or other injuries with features like redness, swelling, warmth, and pain.
Muscle aches: Muscle aches can be acute (as a result of athletic injury) or chronic and involve ligaments, tendons, bones, and organs.
Nerve pain: Painful nerve endings in the layers of your skin can cause burning, throbbing, and stinging.
Noxicare™ has been especially helpful for relieving the pain of those suffering from arthritis, athletic injuries, carpal tunnel syndrome, neuropathy pain associated with diabetes, musculoskeletal disorders, tension headaches.
What I love most is that this is an all-natural product.
Ingredients:
Turmeric Extract: one of the powerful healers found in nature, recognized for its anti-inflammatory properties.
Willow Bark Extract: has been used to treat pain and inflammation since the time of Ancient Egypt and Greece.
Ginger Extract: helps alleviate muscle strains, arthritis, and rheumatism, and is a catalyst for improving the effectiveness of other herbs.
Holy Basil Extract: properties include anti-inflammatory, antioxidant, antibacterial, and antiviral.
Rosemary Extract: has served a variety of purposes including topical use for joint or musculoskeletal pain.
Alpha Lipoic Acids: antioxidants used to treating diabetic neuropathy and increasing blood flow to the nerves.
Boswellia Extract: an anti-inflammatory used to treat arthritis and joint pain.
If you are not a big fan of creams, Noxicare is available in capsules for general pain anywhere or in a topical cream for "trigger points" of pain and site-specific discomfort.
Head over to their Facebook page to find out more about their products.