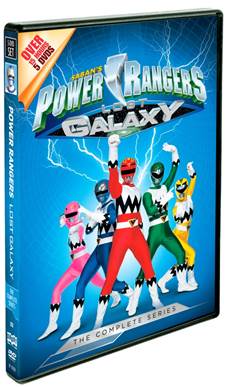 If you have a Power Ranger fan in your family. Head over to ShoutFactory and get it on DVD. On March 10, 2015 join the Power Rangers aboard the spaceship Terra Venture when Shout! Factory releases Power Rangers Lost Galaxy: The Complete Series, a 5-DVD box set that contains all 45 episodes of the iconic show's seventh season.
The massive spaceship Terra Venture represents mankind's greatest accomplishment. The giant spacecraft hosts multiple habitat domes with diverse environments ranging from a lake to a mountain range – even a dome with a sprawling city inside – as it takes thousands of human pioneers deep into space to settle a new world. Along the way they are stalked by dangerous aliens led by the insect-like villain Scorpius and his daughter Trakeena. Rising to protect the colony ship and its many inhabitants, a team of Power Rangers from different walks of life unites to become the Galaxy Rangers.
Following its debut in 1993, Saban's iconic live-action pop culture series, Power Rangers quickly became the most watched children's television program in North America. Emphasizing the importance of teamwork, responsibility and helping others by following the adventures of a group of ordinary young people who "morphed" into superheroes, this long-running series has been seen in more than 60 countries, translated into numerous languages, and remains a mainstay in children's programming blocks. For over 20 years, the highly entertaining saga and fan favorite characters from Power Rangers have captivated children and adults alike and are beloved by legions of fans worldwide.