Primal Pit Paste: Battle Body Odor Naturally #reviews #backtoschoolguide
Disclosure: I received this product as an advertorial
My family is making a conscious effort to make the change to natural, eco-friendly products. From the food, we eat to the products that I use to clean my home, not to mention the products that we use on our bodies. I have tried several product lines in regards to body spray's, lotions and deodorants.  Unfortunately when it comes to deodorant's we have not always found one that is strong enough to provide the protection that my children need especially being involved in sports. The product is called Primal Pit Paste.

Primal Pit Paste is an all-natural organic deodorant that actually works!! It is a healthy, all-natural, organic deodorant this is good for your body. The products are handcrafted from organic and natural ingredients. Although it is not an antiperspirant, it still keeps you dry. Primal Pit Paste is available in a jar and stick and offers Unscented, Lavender, Lavender/Orange and Lavender/Vanilla, Thyme/Lemongrass and is paraben-free and aluminum-free. They also offer a body powder as well as a Pit Primer, Pit Pump and lip balm.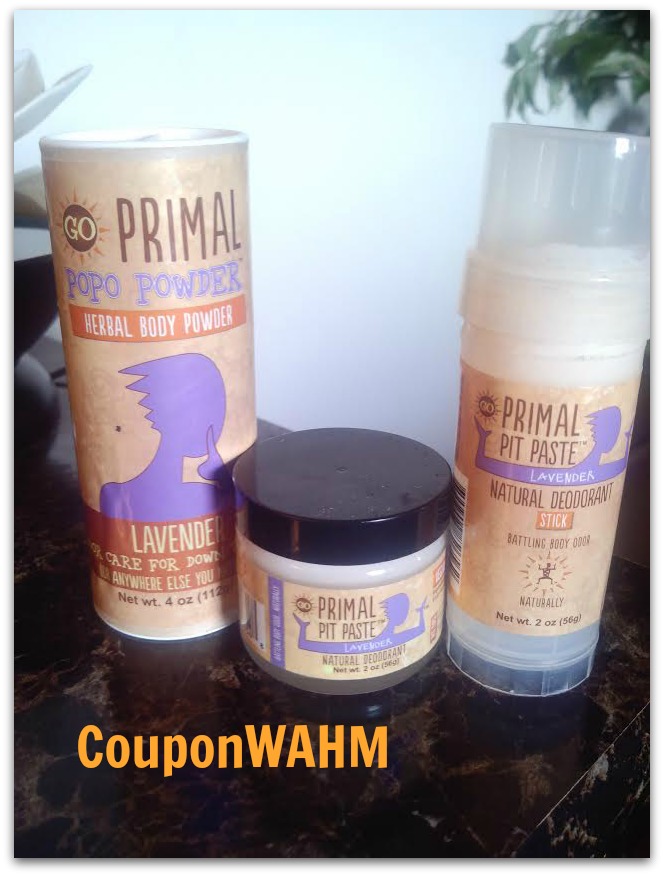 I received the body powder,Primal Pit Paste in a jar and Primal Pit Paste Stick all in Lavender. What I love the most is that the product actually works and smells good. The Pit Paste in the jar is very thick and easy to apply if you prefer a paste. Primal Pit Paste is available in Primal Pit Paste Light,  Strong and Kids varieties. Beeswax has been added to the popular Primal Pit Paste formula if you prefer a stick deodorant.
This product is hand-crafted to ensure that every stick only contains the finest organic products. NO Aluminum, NO Parabens, NO Toxic Chemicals, NO Fragrances, NO Corn, NO Gluten and NO GMOs.What I really love is that the ingredients are items that I can actually pronounce, like Organic Coconut Oil, Organic Raw Shea Butter, Non-Aluminum Baking Soda, Organic Arrowroot Powder, and Organic Essential Oils.
Head over to http://primalpitpaste.com/ To find out more about Primal Pit Paste. To stay in the loop as new products are introduced, connect with them on their social media outlets.
https://www.facebook.com/PrimalPitPaste
https://twitter.com/primalpitpaste
http://www.pinterest.com/primalpitpaste/