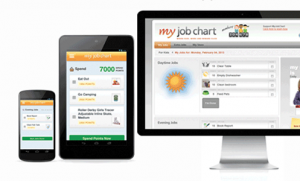 I recently found out about an awesome new online system for t called My Job Chart.
My Job Chart is the free, easy to use, online chore chart and reward system for teaching, organizing and motivating your kids to Save, Share and Spend responsibly.
My Job Chart makes it easy for parents to assign chores and more motivating and meaningful for children to fulfill them.
My Job Chart facilitates fun, engaging, hands-on learning for kids on the ABCs of prosperity including saving, sharing and spending.
My Job Chart gives parents the satisfaction of seeing their kids gain the foundation skills of a strong work ethic and financial responsibility.
My Job Chart takes the struggle out of instilling a strong work ethic in kids. Check out this video and see how it works.
My Job Chart even has an app which makes it even easier. My son was able to download the app on his kindle and I downloaded it onto my tablet  with ease. My Job Chart is simple to use. Kids just login, do their chores and get rewarded. That's it.
My Job Chart even has a fundraising program. Your school or church can earn $1.00 just for signing up, the best part is, My Job Chart is FREE.To get started just head over to My Job Chart
Disclosure: This post contains affiliate post