Disclosure: I received this book as an advertorial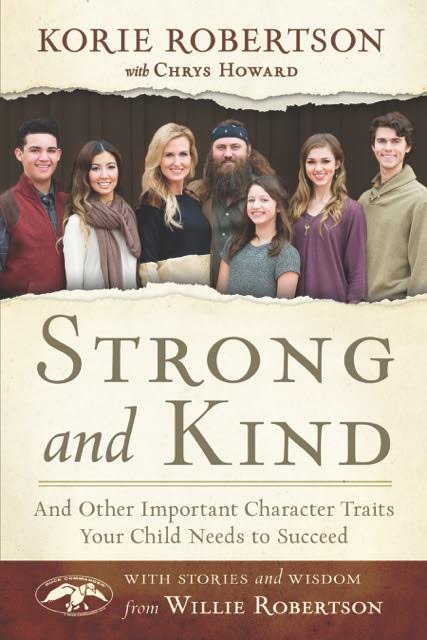 Although I am a mom of 5  children who range in ages from 27 years to 6 years, I am constantly on the lookout for tips and tricks to help me be a better parent.It's no secret that in today's society, it is becoming harder and harder to raise children that are strong, compassionate and kind.With so many children being raised in foster homes and with grandparents due to the increase in drug use along with the lack of fathers in the home, many children are not taught strong values like in day's past. There is also so much negative images being shown on television and video games,unfortunately I really don't see it getting better anytime soon.So what's a parent to do?
I recently received a copy of Strong and Kind, the new book by Korrie Robertson. In her new book STRONG and KIND: And Other Important Character Traits Your Child Needs to Succeed, Korie Robertson – New York Times bestselling author, wife of Duck Commander CEO Willie Robertson, star of A&E's Duck Dynasty, and mother of five – argues that developing good character in our children is the single most important thing we can do to help ensure they lead happy, healthy adult lives. Robertson explores key traits and what they truly look like in action, asks readers to select the two traits that they hope to see most in their children, and shares hands-on ways for nurturing strength of character. Written with her mother Chrys Howard and featuring stories and wisdom from husband Willie, STRONG and KIND cuts through the contemporary cacophony of parenting manuals to rediscover, unfold, and embrace the enduring wisdom that has guided the best parents for centuries.
Check out this video by Korie:
This is one of the best books that I have read in a very long time when it comes to raising kids. I love that she incorporated values and scriptures from the word of God.Also, a workbook has been designed by Jess Connolly of 
Naptime Diaries
 to compliment the book.  It helps families work through the key points in the book together.  This workbook is available ONLY to the reader who wins the giveaway of the book Strong and Kind.
For a sneak peak into the book you can download a chapter below.

If  you are looking for an easy read that have strategies that you can immediately implement, I highly recommend this book.  To stay in the loop, you can follow Korie and the book here: