Throat Irritated? Try #PineBros Softish Throat Drops
Disclosure: I got this product as part of an advertorial.
If you are in the colder parts of the world like I am. I'm sure you have had your fair share of sore and scratchy throats. I recently found out about a really good product called Pine Brothers softish throat drops. If you are like me and you have never heard of them before, here is a little background.
Pine Brothers were created by Mr. Pine, a former German confectionery maker, determined that by combining the soothing natural qualities of glycerin with the healing properties of gum acacia, he could soothe and mitigate the mild discomfort of a sore throat. Add in some natural flavoring and a sweetener and voila, Pine Brothers Softish Throat Drops were born. "I have discovered something," Pine wrote, "which will give quick throat relief to thousands afflicted as I was." He added, "Perhaps I won't make much money out of this. But I can make people happy, and that's more important than money." Mr. Pine was being unduly modest, as his "discovery" would become one of the most successful, most delicious, and most unique throat lozenges in the world. Nor has the recipe changed appreciably since it was first introduced to the public over 140 years ago.
In 1930 Pine Brothers were sold to the Life Savers Company and continued to flourish. Known for its 'soft drop consistency,' Pine Brothers lozenges became a favorite of adults and children alike. The product, which attracted the healthiest sales in the eastern and northern states, due to its icy winters, reached its peak popularity in the 1970s. The company was sold by Life Savers, and then, having been re-sold and acquired several times, found itself essentially rudderless and under appreciated; this despite a legion of loyal consumers. Cost-cutting changes were made to the original recipes, packaging became stale and marketing non-existent; Pine Brothers began to be made overseas. Sales declined.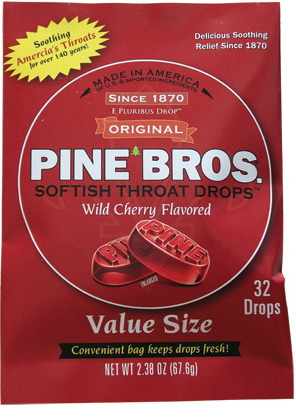 Recently, Pine Brothers were acquired by the creator and former owner of Airborne, Victoria Knight-McDowell, for her new company 3 Sisters Home Products. Much time and effort have been spent locating the original Pine Brothers recipes, redesigning the packaging, and creating an exciting yet classic new look.
Pine Bros. Softish Throat drops are different than a lot of the other drops on the market in they are soft but hard (if that makes sense). They are also mild, I love that they are not strong at all, very smooth and soothing to the throat. The drops are available in Licorice, Cherry, and Honey (cherry is my favorite).
If you are suffering from a scratchy or sore throat, give Pine Bro. Softish Throat Drops a try. They can be found at many of your local retailers. Head over to their website for more information.
I received one or more of the products mentioned above for free using Tomoson.com. Regardless, I only recommend products or services I use personally and believe will be good for my readers.